Air Conditioning
Air conditioner supply, installation, repairs & service
You're probably here because you need some help with your air conditioning. We get it, and we want to make sure that you're taken care of. Fallon Solutions specialises in the design, supply, installation, and maintenance of domestic and commercial air conditioners in the Brisbane, Gold Coast, Sunshine Coast, Logan & Ipswich areas. We can work with all air conditioning brands and are dealers for both Daikin and Mitsubishi Electric.
Book a Fallon Solutions air conditioning expert today.
Complete air conditioning services
Our team is made up of highly trained air conditioning technicians who are ready to handle any challenge that comes their way. They can install new units or repair old ones, clean out ducts or check the refrigerant levels in your system — whatever it takes to keep things running smoothly for you.
If it involves an air conditioner, then we can help. Fallon Solutions can help with all your air conditioning needs, including:
Air conditioner supply & installation
We offer professional and affordable installation services for all brands of air conditioners, including Mitsubishi Electric and Daikin. Our team is fully trained in all aspects of air conditioning installation so you can be sure your system will be installed correctly every time. Plus, we have years of experience in the industry so there's no one better equipped to handle your job than our team.
IMPORTANT: Fallon Solutions doesn't install air conditioning systems we haven't supplied.
If you want an expertly-installed AC that runs smoothly for years to come then contact Fallon Solutions today.
We also offer installation of new air conditioning systems from the following premium brands:
Our team also repair and service all of the above brands of air conditioners as well as many more.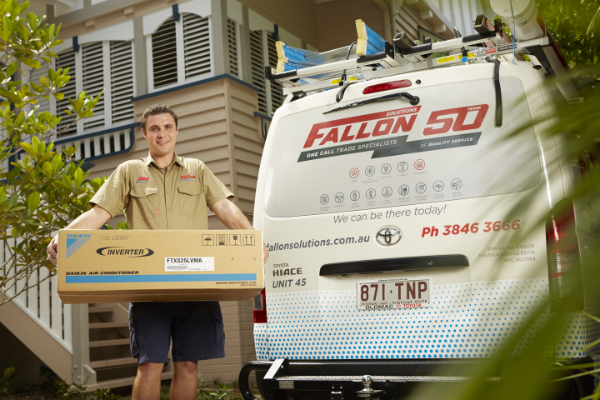 Air conditioner styles
We have installed and repaired thousands of domestic and commercial air conditioning systems,from suburban homes, right the way through to high rise buildings and large commercial premises. Our team are trained to work with all air conditioning systems including:
cassette air conditioners
When our team works on your unit, they do everything possible to avoid disruption and inconvenience for you; whether it's a quick fix or a full replacement, we always work hard so that there isn't too much downtime between appointments. And when the job is done? Your home will be more comfortable than ever before. That means no more hot nights spent sleeping on top of the covers with all four fans blasting away at once—just cool comfort from Fallon Solutions.

Air conditioning repairs & servicing
All brands of aircons serviced and repaired
Split and ducted air conditioner repairs
Commercial & HVAC repairs
No job too small or too large
Custom maintenance contracts specific to the HVAC equipment
Reactive to repair and proactive to failure prevention
Expert advice on system suitability and retrofit requirements
Manufacturers warranty on all equipment installed by us
Air conditioner cleaning
Ensure the air distributed by your aircon is clean and free of allergens, dust and bacteria by carrying out yearly air conditioning cleaning. A professional aircon clean thoroughly sanitises all areas of your unit, including the sections you can't safely reach.
Book an air conditioner cleaning service today and breath clean, fresh air in your home or business every day.
The benefits of smart air conditioning - video
Have you ever forgotten to turn off your air conditioner before leaving the house? It happens to all of us. With a smart air conditioner, this won't be a problem anymore, as you can control the settings of your air conditioning unit remotely. Mick speaks to Fallon Solutions air conditioning technician Brendan about the advantages of installing smart air conditioning.
Fallon Solutions aircon quotes
Fast quotations on new installations - from plans or on-site
Fast quotes on maintenance contracts - all areas
Fast quotation on electrical upgrades if necessary
Quotations completed by trained, experienced air conditioning professionals
No hidden surprises
Your local air conditioning experts
For the very best in air conditioner installation, repairs, servicing, and cleaning contact Fallon Solutions on 1300 054 488 or complete our quick online aircon booking request form today.
Our Air Conditioning Service Areas
AIR CONDITIONING FAQ