Air Conditioining Wynnum 4178
Need Wynnum Air Conditioning?
Fallon Solutions have a crew of fully qualified and licenced Air Conditioning Wynnum Technicians, available in all suburbs of Brisbane, including Wynnum. From a new Air Conditioning Installation to Air Conditioning Service and Repairs, our experienced tradesmen will provide a fast, efficient service. We cover all styles including split system , multi split, and ducted air conditioning . Whilst we service most brands, we are also authorised ealers for both Daikin and Mitsubishi Electric; meaning we can offer the best price around. Simply contact us for any air conditioning needs in Wynnum.
Air Conditioning Wynnum Enquiry
Why use Fallon Solutions for Wynnum Air Conditioning?
Our Air Conditioning Techs will work within your schedule and requirements.
Our Air Conditioning Techs are some of the friendliest in Brisbane.
Our Air Conditioning Techs aim to get the job done right the first time.
Fallon Solutions is your "One Call Trade Specialists", so we can help you with more than just Air Conditioning.
We have been servicing Brisbane for over 50 years and have built a reputation you can trust.
Wynnum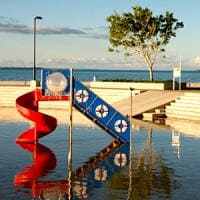 Wynnum is another one of Brisbane's beautiful bayside suburbs. Only 30 minutes from Brisbane's CBD, Wynnum and nearby suburbs Manly and Lota, are popular with families and those that love to live on the water.
The bayside suburbs are amongst the oldest of the suburbs in Brisbane and attract families and investors looking for the ideal Queenslander to renovate and live in or sell on.
No longer the quiet seaside villages that Wynnum and Manly once were, these Brisbane bayside suburbs now offer a plethora of trendy local shops and cafes. Local residents and day visitors enjoy the boardwalks and marina and the children love the wading pool on the seafront.
The yacht club in nearby Manly attracts people from all over the region and Wynnum is also serviced by the Cleveland train line.
Need more than Air Conditioning Wynnum?
Fallon Solutions is your "One Call Trade Specialists" and can help with most trades you will need in both your home or business. Why waste time dealing with multiple companies when you can just deal with one?