Daikin P-Series Air Conditioners
Daikin Split Systems
We are Daikin Authorised Dealers: what does that mean?

Daikin air conditioners are only available through the Daikin Dealer Network. Daikin believes that superior experience, technical know-how, and product knowledge can't be found at most appliance retailers; so for this reason, they sell through a network of qualified dealers. These Dealers will not only help you decide on the best Daikin air conditioner for your needs but will professionally install it for you as well.

10 good reasons to choose a Daikin Specialist Dealer:

Daikin - Why use a Daikin Specialist Dealer? (1703 KB)

Fallon Solutions have been a Daikin Authorised Dealer for many years and being one of the largest in Brisbane means we can pass on some pretty good savings.

More information on Daikin air conditioning
Daikin's new P-Series wall mounted split system air conditioners offer whisper quiet operation, advanced energy efficiency and a sophisticated titanium air purification filter for clean, fresh air. Fallon Solutions provide supply, installation, service and repair of the Daikin P Series.
Daikin Air Conditioning Enquiry
Fallon Solutions, specialists in Daikin Air Conditioning .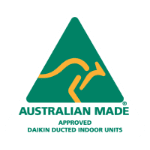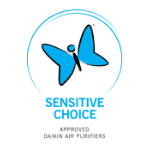 P-Series split system air conditioner features
R32 Refrigerant - R32 is the latest in air conditioning refrigerant development. Less global-warming potential than refrigerant R410A, significantly reducing the risk to the environment. R32 also provides advanced air conditioner energy efficiency.
Fresh air - the P-series is fitted with a titanium air purification filter which traps microscopic airborne dust particles, bacteria and viruses. The titanium filter assists in the reduction of bad odours in the air, keeping your room smelling fresh.
3D airflow - vertical and horizontal auto fan swing creates an even distribution of airflow throughout your room, ensuring the whole room is cooled or heated evenly.
Program dry function - this function reduces humidity and automatically controls room temperature and airflow, switching to cool mode if the room warms up.
Inverter powerful operation - boosts the cooling or heating for a period of 20 minutes to quickly reduce or increase the temperature of a room.
Comfort mode - sets the louvre to horizontal when cooling to prevent airflow blowing directly onto you and sets the louvre to blow down when heating to direct the warm air to the bottom of the room.
DRED - the Demand Response Enable Device feature allows your electricity provider to direct the air conditioner to reduce power during periods of peak demand, reducing the stress on the grid during these times. Peak demand often occurs on very hot days between 4 and 8 pm.
For more information on the Daikin P-Series download the brochure:

Daikin Split System Air Conditioner (3488 KB)
Your local Daikin specialists
Daikin has been keeping Australians comfortable in their homes for more than 40 years. If you are looking for a quality, energy efficient, reliable split system air conditioner, the Daikin P-Series is the one for you.
Fallon Solutions can supply and install a range of P-Series sizes, ensuring we have the right air conditioner for your needs. Call our air conditioning team on 1300 054 488 or complete our quote request today.
AIR CONDITIONING FAQ