Air Conditioning Logan City
Professional Logan air conditioning services
If you need an air conditioning installation or air conditioning repair, Fallon Solutions can help. Covering all suburbs of Logan City, our fleet of service vehicles arrive fully stocked, so in most cases, we can complete the job in one visit. Our team of qualified and licenced air conditioning technicians are experienced in all brands across split system , multi system and ducted air conditioners . We are also Authorised Dealers for Daikin and Mitsubishi Electric , which means we have the best price around. So for all your air conditioning Logan needs, give us a try.
Book Air Con Service in Logan Today
All styles of air conditioning systems
Ducted air conditioning
Ducted air conditioning provides a whole home or building climate control solution from the one unit. Reverse cycle ducted systems offer energy-efficient year round comfort of gentle, quiet cooling or heating throughout your home. Benefits of ducted air conditioning include:
energy efficient option for cooling or heating multiple rooms
quiet operation makes it ideal for sleeping areas or offices
the gentle distribution of air from ceiling vents or bulkheads removes the draughts often associated with split system units
discrete vents allow the ducted system to integrate into any decor
Split system air conditioners
Split system air conditioners are so versatile they can be installed almost anywhere in your home, apartment or unit. The huge selection of sizes and styles mean there's an option perfect for the space you want to cool or heat. Benefits of split system air conditioners include:
options include wall, ceiling, and floor mounted models
energy efficient
advanced air filters can remove most of the pollen, dust, and odours from the air providing clean fresh air for those with allergies
quickly cool or warm a room
reverse cycle models provide cooling and heating from a single appliance
Not sure which style is right for your home or business? Fallon Solutions experienced air conditioning technicians can provide expert advice on the perfect ducted or split system air con for your specific climate control needs.
Air conditioner brands
Our team are able to supply and install a large range of air con units from a number of leading brands. Fallon is an approved Daikin Dealer and Mitsubishi Electric Diamond Dealer .
Our team can also carry out servicing and repairs on brands including but not limited to:
Why use Fallon Solutions air conditioning in Logan?
We are Authorised Dealers for both Daikin and Mitsubishi Electric Air Conditioning.
We will give you an upfront price ; so you'll know exactly what it's going to cost you before we start.
Fallon Solutions has been around for over 60 years and have built a reputation you can trust.
We offer a Limited Lifetime Labour Warranty .
We're your One Call Trade Specialists , meaning we can help you with all your trade needs.
We guarantee to be on time .
Your local air conditioning experts Logan
For the very best in air conditioning services throughout Logan City Council contact our team on 1300 054 488 or complete our quick air conditioning booking request today.
Logan City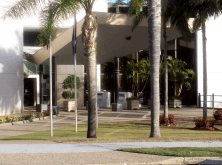 Logan City lies between Brisbane, Ipswich and the Gold Coast. Its central location and entry level prices attracts both first time home buyers and investors.
There is a mixture of young families who rent as well as older owner-occupiers - many making the daily commute 23 minutes north-east to Brisbane CBD or 40 minutes south to the Gold Coast each day.
There are many parks and schools in the region as well as bushlands and reserves all on offer for the residents of Logan and its surrounding suburbs of Marsden, Crestmead and Slacks Creek.
Nearby landmarks include Logan Entertainment Centre, Logan Gardens and the Logan Central Market each Sunday morning selling fresh produce as well as textiles and electrical goods.
We can help with your air conditioning issues in Logan.