Mitsubishi Electric Air Purifier
Clear the air with a Mitsubishi Electric air purifier
The air we breathe is constantly under threat. With bush fires, a global pandemic and spring pollen season just around the corner it's more important than ever for people to take steps towards improving indoor environments that can make all of this discomfort worthwhile.
One of the easiest ways to improve indoor air quality is by investing in a quality air purifier. Keep your family safe and healthy with a Mitsubishi Electric Air Purifier. It's the perfect way to ensure that everyone in your home is getting the clean air they need to breathe easily and comfortably. You can also get a Plasma Qud Connect filter that can be connected to your aircon. It inhibits the major indoor air pollutants like the influenza virus, bacteria, PM2.5, allergens, mould and dust. Our expert aircon technicians can connect the filter to your exiting aircon. Breathe clean and fresh air with reliable air purifiers. Speak to an expert today.
Mitsubishi Air Purifier Enquiry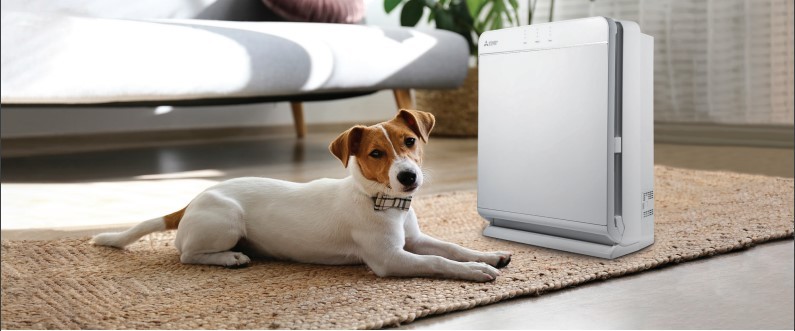 Features of Mitsubishi's Air Purifiers
Mitsubishi Electric offers the MA-E85R-A air purifier with:
High-performance HEPA filter ( H13 grade) - capable of removing up to 99.97% 0.3 µm ultra-fine particles
Smart search sensors with high precision PM2.5 and odour sensors
508 m³/h Clean Air Delivery Rate
Auto-cleaning pre-filter
Activated carbon filter to remove harmful gases and unpleasant odours
Platinum catalyst filter that uses nanotechnology to absorb odorants and deodorise the air
3-step clean light monitor that displays the levels of indoor air contaminants
Silent night mode for a restful sleep
Multi-speed settings
Washable filters
Mitsubishi Electric Air Purifier Brochure

Plasma Quad Connect Filter
For improved convenience, you can connect a secondary filter to your aircon. This filter is suitable for both new and existing installations. Plus it is compatible with selected units like:
M Series (MSZ-EF/AP/AS/GS, MSY-GN)
Mr Slim (SEZ-M, PKA-M, PLA-M, PEAD-M)
City Multi (PKFY-P, PLFY-P (VEM), PEFY-P (VMS1/VMX/VMA))
Hybrid (PKFY-WL, PLFY-WL (VEM), PEFY-WP (VMS1/VMX/VMA))
The air cleaning system uses powerful plasma technology to reduce viruses, bacteria, PM2.5, allergens, mould and dust.
Click here to learn more - Benefits of Air Purifiers
Your Trusted Local Mitsubishi Electric Specialists
We are Mitsubishi Electric Diamond Dealers and can provide a range of residential and commercial products at great prices. Give us a call on 1300 054 488 or complete our online enquiry form.
AIR CONDITIONING FAQ