Mitsubishi Ducted Air Conditioning
Top quality Mitsubishi ducted air conditioning systems
Fallon Solutions is a Mitsubishi Diamond Dealer, our technicians trained to provide expert advice to assist you in choosing the best ducted aircon layout for your home or office. With a full range of ducted air conditioning from Mitsubishi Electric can be designed with zone control and are well suited to multi-room solutions. Climate control can be at the touch of the button to suite the room functionality and space.

In preparation for your Mitsubishi ducted air conditioner quote from our qualified technicians it is useful to have an idea of the following:
The size property/zones you are looking to duct
Your properties current insulation
Window and door sizes
Natural air flow to the space
External climate
Location for external equipment
Your budget
Is ducted air conditioning right for your home?
Is a ducted air conditioning system or multiple split system reverse cycle air con right for Queensland homes? Lee Carseldine talks with air conditioning technician Av from Fallon Solutions about the pros and cons of both, and the ducted aircon installation process.
Latest Mitsubishi ducted air conditioner technology
Mitsubishi ducted air conditioners utilise the latest technology to ensure their products are constantly setting the benchmark for quality. They are constantly improving their products as technology evolves. The new range of Mitsubishi Heavy Industries air conditioners feature:
Improved LCD remote controls for system operation
Compact design for ease of installation in the ceiling
Improved efficiency of heat exchanger
Quieter than previous models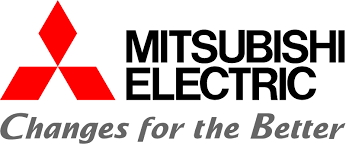 Mitsubishi ducted air con range
Installing Mitsubishi Heavy Industries (MHIAA) or a Mitsubishi Electric air conditioning will add value to your home or office. Fallon Solutions can handle all your Mitsubishi ducted air conditioning installations, supply, service and repair. Contact our office at 1300 054 488 for any advice on air conditioning and one of our skilled tradesmen will assist.
We have been providing ducted air conditioning solutions for over 60 years and if you are looking to purchase a new system we will give you a quote.

Brochure downloads
If you require a ducted air conditioning system more than 22 kW take a look at our Mitsubishi Commercial range.
All major brands of ducted air conditioners
We also supply, install, service and repair all the major brands of ducted air conditioning systems. Some of the premium brands we service are:
AIR CONDITIONING FAQ