Mitsubishi SUZ-M Series
Mitsubishi Electirc compact air conditioner range
We are a Mitsubishi Electric Diamond Dealer: what does that mean?

Fallon Solutions are a Mitsubishi Electric Diamond Dealer through our subsidiary A Approved Air . A Diamond Dealer has shown they have the technical know-how and product knowledge of Mitsubishi Electric air conditioners to help you choose the best air conditioner for your needs. They are also industry accredited, professional installers.

As Mitsubishi Electric Air Conditioning Diamond Dealers, we can supply, install and offer ongoing support for your Mitsubishi air conditioner.

Find out more about Mitsubishi Electric air conditioning
The new Mitsubishi Electric SUZ-M Series offers compact air conditioning solutions for residential and light commercial applications with limited space. Using R32 refrigerant the updated series is more energy efficient than ever before. The SUZ-M outdoor unit can be used with a range of indoor unit styles which allows you to fully customize your air conditioning systems for your particular climate control needs. Fallon Solutions offers the installation, repairs, and maintenance of the SUZ-M series range throughout Brisbane and the Gold Coast.
Mitsubishi Air Conditioning Enquiry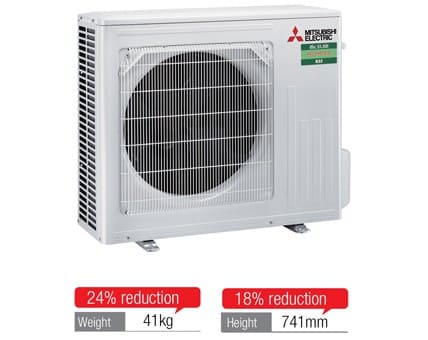 Benefits of Mitsubishi SUZ-M air conditioners
The SUZ-M series is 24% lighter than it's predecessor making it easier to transport and install.
The compact size means it's ideal for use where space is limited like apartment balconies or small townhouse gardens.
This versatile outdoor unit can be paired with a range of indoor units including:

Wall mounted split systems
Ceiling suspended units
Compact bulkhead
Low profile ducted aircon systems
Compact and standard 4-way cassette
One way cassette

2.5kW to 7.1kW options available.
Optimum power, maximum comfort, and minimal energy consumption achieved using full inverter control technology.
Backed by Mitsubishi Electric's 5 year parts and labour warranty.
WiFi control option with adaptor for easy operation from anywhere via your smartphone or tablet.
Why use Fallon air conditioning specialists?
Fallon Solutions has been providing residential and commercial customers across Brisbane with top quality professional air conditioning services and advice for over 60 years.
We value every minute of your time - we'll arrive at the time agreed upon.
All our work is backed by a 100% workmanship guarantee.
Our air conditioning technicians are fully licensed and insured.
We provide our team with regular training to ensure we can provide our customers with the most up to date products and services possible.
We're Mitsubishi Electric Diamond Dealers which means we have specialist knowledge of the full Mitsubishi air conditioning range.
Your local Mitsubishi air conditioning specialists
For the very best in compact air conditioning solutions speak to the team at Fallon Solutions about the new Mitsubishi Electric SUZ-M series for your home or business at 1300 054 488 or complete our quick online Mitsubishi service request form today.
AIR CONDITIONING FAQ