Air Conditioning Fault Finding
Getting a quote over the phone? Are you being quoted for everything, no surprises? Are you comparing apples with apples?
You found the fault, we can find what caused it. An air conditioning technician is more like a detective.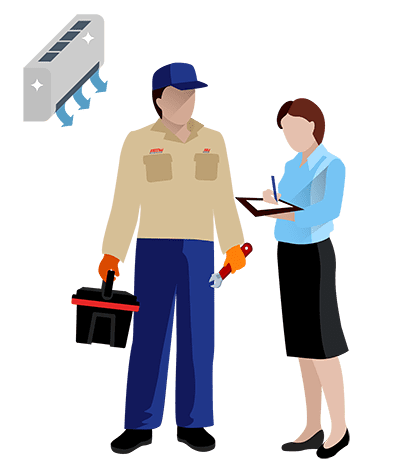 Catching the culprit, or culprits, isn't always straightforward.
When your air conditioner isn't running as it should, there could be many reasons why. Due to the complex nature of air conditioning units, thorough investigation is required to accurately determine the fault and provide the best solution.
Air conditioners have multiple components that interact with one another. If there is a problem with one part of the machine, it may be because of a more serious fault in a connecting part.
Sometimes, faults only appear under certain conditions, or they only happen intermittently. It's important to test each possible scenario.
If your machine is heavily contaminated it will require a precision tune up to remove mould, dust, vermin and other contaminants before a fault can be identified. These factors need to be eliminated so that the root cause of the performance issues can be accurately determined in the fault finding procedure.
The Investigation
The fault finding process requires testing of each individual component. This includes:
Checking basic operation
Isolating the machine for safety
Testing electrical components
Checking compressor operation
Checking isolator for correct operation
Inspecting for contaminants such as dirt, mould, rodents etc.
Checking evaporator coil
Checking drain tray/pan
Checking condition of return air filters
Checking supply and return air temperature
Checking refrigerant charge
Checking condensing unit and condensing coil
Checking pipe duct and interconnecting services
Provide full report on overall condition of the indoor and outdoor units
Book an air conditioning technician to perform a full investigation of your air conditioning problem
Call : 1300 054 488 or fill out the following.
Air Conditioning Enquiry
AIR CONDITIONING FAQ