Drainage Solutions
Need help with sewer or stormwater drains & pipes?
Fallon Solutions licensed drain plumbers can help. We will find out exactly what the problem is and then provide effective, practical solutions to fix it. From clearing a blocked drain or repairing drains using pipe relining to installing a new stormwater drainage system, we can do it all. Where ever you are in Brisbane or the Gold Coast if you're having problems with stormwater or sewer pipes contact our drainage specialists today.
Drainage Enquiry
Who's responsible for problems with drains?
Under local council guidelines, all household drains and their upkeep and maintenance, are the responsibility of the homeowners. This means the section of drainage that lies within the property boundaries are also the residents' responsibility. The Brisbane City Council recommends only licensed plumbers are used for any private drain or plumbing works you may require.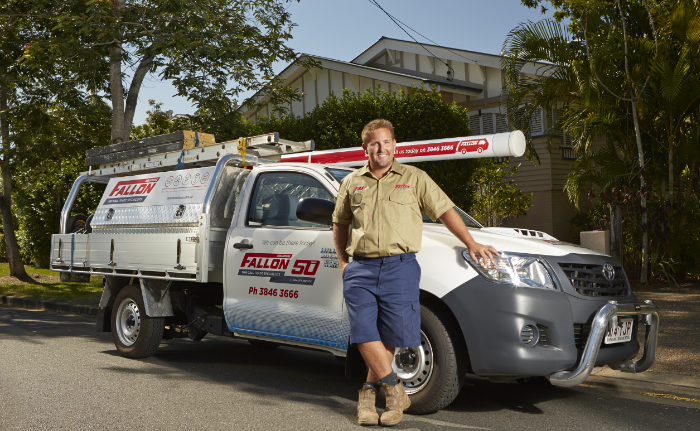 Common drain issues & repairs
We have solutions for all common drain problems, and many issues which are not so common. Our team can help:
Stormwater drains
During the peak storm season 100's of litres of water can fall on your property and if you do not have the correct drainage in place, the water can't run off. This can be potentially dangerous to your house leading to issues like flooding and rising damp. Having water sitting around the property can not only create a health hazard but can result in sigificant water damage repairs. It is vital that your property has the correct stormwater drainage solutions in place to move the rainwater quickly away from your building.
Our drainage team can assess the drains around your property and design a system of drains and pits to ensure that your stormwater is collected efficiently and runs off into a legal discharge point quickly to reduce flooding and water damage.
The great benefits of using Fallon Solutions for your drainage needs
We have a large team of qualified plumbers on board that are experienced with all drainage solutions. We have a fleet of over 50 vehicles servicing Brisbane, the Gold Coast, Sunshine Coast & the South East Queensland region and are a member of the Master Plumbers Association.
Our plumbers are trained to use specialised equipment to clear blocked drains or have access to quality parts for repairs.
For all your drain installation and repair needs contact Fallon Solutions drainage specialists at 1300 054 488 or complete our quick online drainage booking request today.
Blocked Drain FAQ
Common causes of blocked drains

The most common causes of blocked drains include: •Hair •Toilet Paper •Sanitary Items •Grease and fat build ups •Tree Roots •Foreign objects such as small amounts of foods and soaps building up.
How to unblock a drain - 6 ways to success

Option 1. The Natural Way. Option 2. The Old-Fashioned Way. Option 3. The Technical Way. Option 4. The Toxic Way. Option 5. The U-Turn Way. Option 6. The Easy Way. For more in depth information visit the link below.

Find out more - Learn More
For more in depth blocked drain information visit our Drainage Solutions Information page.