Sewer Pipes & Stormwater Drainage
Do you have sewer pipe or stormwater drainage problems?
Fortunately for most of us, we don't normally need to worry about stormwater drains and sewer pipes. In fact, most people don't realise that a sewer system and stormwater drain system are not the same and have completely separate functions. All the water from our home sinks, toilets, and showers flow into the sewage system where it is treated and filtered for any pollution. All the water that flows down our driveways, gutters, and streets goes into stormwater and into lakes, rivers, and eventually the ocean.
When they are working they are essentially invisible to the general population, however, when something goes wrong they quickly become important. Whether you have a blocked stormwater drain or sewer pipe, it is a hassle you can do without.
Fallon Solutions drain plumbers offer complete sewer and stormwater drainage solutions. Book today.
Stormwater Drainage Enquiry
Stormwater drainage and sewer pipe damage
Stormwater drainage and sewage systems are designed to protect public health and the local environment by preventing sewage and stormwater backing up into homes and properties. Blocked stormwater drainage and sewer pipes can become particularly hazardous in wet weather, in particular when high volumes of rainfall - as experienced in South East Queensland most summers.
Along with flood water, the problem is increased through faults in pipes or illegal connections that may result in exceeding the capacity of the system and subsequent overflows. Overflows can still happen in dry weather due to blocked stormwater drains or blocked sewer pipes.
Sewage overflows can also be the result of:
cracked pipes and tree root intrusion
collapsed or broken pipes
boundary traps damaged or cracked
direct connections (not allowed)
poorly fitted inspection holes
low-lying gullies
How to maintain your stormwater drain - video
Here's everything you need to know about residential stormwater drain solutions; from why it pays off to have a stormwater drain installed in your backyard to how to maintain it properly.
In this video, Mick discusses stormwater drainage solutions with Fallon Solutions plumber Elijah, as well as looking at the installation of a channel drain to draw water away from the house.
Experienced drain plumbers
If you have a problem with your stormwater drain or sewer pipe our plumbing team as soon as possible.
We provide plumbing services for storm water drains and sewer pipes by licensed plumbers and will respond with the highest priority.
Our master plumbers use state of the art equipment and have extensive industry experience at fault finding and fixing stormwater drainage and sewer pipe problems. Take a look at some of the drainage solutions we have available.
Due to the potential for serious damage to your property and public health safety, stormwater drainage and sewer pipe problems should be treated with the utmost urgency.
If you're not sure who is responsible for the repair of the stormwater drain contact Fallon Solutions to discuss your options. Always get a licenced plumber and someone experienced at working with blockages of stormwater drainage and sewer pipes.
It is recommended you get expert help immediately. Not only can it damage the structural integrity of your home but it is unhygienic and can make you sick.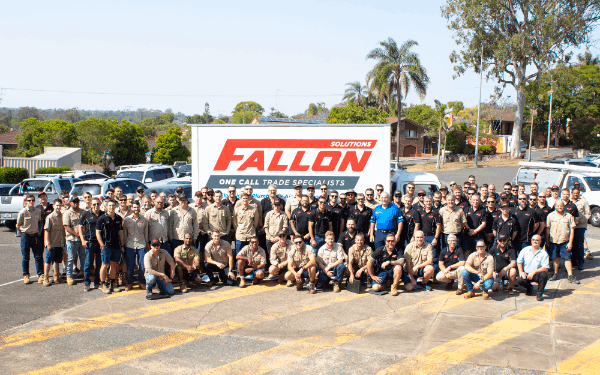 Sewer pipe repairs today
If you think you have a problem with your stormwater drains or sewer pipes, don't risk the health and safety of your family or damage to your family home, contact Fallon Solutions at 1300 054 488 or complete our quick online stormwater or sewer drainage repair request form.
DRAINAGE SOLUTIONS FAQ