Stormwater Drainage Repairs
Complete stormwater drain repair solutions
Fallon Solutions have been carrying out stormwater drainage solutions for over 60 years. We can repair broken drains, cracked drains or collapsed pipes, install stormwater pits and suitable stormwater drainage to ensure that your stormwater drainage is working and ready for when the rain starts.
Stormwarter Repair Enquiry
Custom storm drainage upgrades
Fallon Solutions will assess your stormwater drainage needs and develop a custom drainage solution that best suits your individual home and property layout. When it rains 100's of litres of water fall onto your property and the correct stormwater drainage must be in place to ensure adequate water run off.
Stormwater Maintenance
Don't wait for a problem to occur. An effective stormwater drainage maintenance program will help protect your family and pets, your local environment and waterways, as well as save you the costs of emergency repairs. Fallon Solutions can provide stormwater drainage inspections, drain repairs and cleaning of drains to ensure your pipes and stormwater drainage has adequate capacity to handle summer rains. As the saying goes ~ 'Prevention is better than the cure'. Though in this case, there is no cure, just costly repairs.
How to maintain your stormwater drain - video
Here's everything you need to know about residential stormwater drain solutions; from why it pays off to have a stormwater drain installed in your backyard to how to maintain it properly.
In this video, Mick discusses stormwater drainage solutions with Fallon Solutions plumber Elijah, as well as looking at the installation of a channel drain to draw water away from the house.
Rainwater harvesting & rainwater tanks
Our stormwater management systems include rainwater harvesting. In our rainwater harvesting systems, rainwater is collected and stored for reuse and recycling before being treated and released into the water supply. Our rainwater harvesting systems include a rainwater catchment area, rainwater tanks, water pump, water treatment and water storage. Water is our most precious natural resource and people are now realising the importance of stormwater harvesting and recycling. Make the most of your summer rain, call us to find out more about our rainwater harvesting.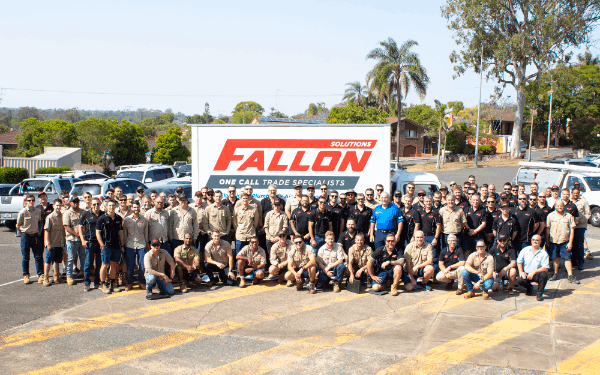 Your local stormwater drainage repair specialists
With over 60 vehicles and a team of master plumbers on board you can trust Fallon Solutions for all your stormwater drainage and rainwater harvesting. Contact our team at 1300 054 488 or complete our quick online stormwater repair enquiry form above.
DRAINAGE SOLUTIONS FAQ