Electrician - Brisbane, Gold Coast, Sunshine Coast
Are you looking for top quality electrical services?
Fallon Solutions electricians provide the full range of data and electrical services to all types of domestic, commercial, industrial and government customers throughout Brisbane, Gold Coast, Sunshine Coast, Logan, and Ipswich. Every electrician on our team receives regular training, is fully qualified, experienced, licenced, and insured to ensure you get the best, most up to date service possible.
Our electricians provide the best electrical services
Our team of electricians boast an amazing record for excellent customer feedback. Fallon Solutions only employs accredited master electricians to ensure that you are receiving services from the best electricians in Brisbane, Gold Coast and Sunshine Coast.
Fallon Solutions - Electrical services you can trust
Great reasons to use our electricians
Unlike some electrical companies, we operate from a central office, so when you log a service call our customer service team are able to track the closest electrician to you and book in your electrical job straight away. This means that we can attend to your job sooner and our electricians are busy working in the field, not taking phone calls when they are working at your property.
So if you are looking for an electrical contractor in Brisbane that will turn up on time and carry out the work in a cost effective and time effective manner give the team at Fallon Solutions a call.
We offer a huge range of electrical services
Below is a list of some of the electrical services, installations, and repairs our electricians can help you with. If you can't find what you are looking for simply give us a call on 1300 054 488 , we are sure to be able to help.
Backup generators
Bathroom heating and exhaust fans
Bathroom renovations
Check wiring and check lights
Computer wiring
Disconnect stove and disconnect oven
Downlights and dimmers
Downlight covers
Electrical outlets
Electric repairs
Electrical switches
Energy saving devices
Exhaust fan
Fairy light installation
Fixing power outages
Garden lights
Inspections
Install cable
Install IXL Tastic bathroom heat lamps
Install garbage disposal units
Intercoms
Interior lights
Kitchen renovations
Lamp replacement
Lighting installations
Lighting audits
Loss of power
Low voltage lights
Maintenance programs
Plant maintenance
Preventative maintenance programs
Pool lights
Power points
Power poles
Pool pump power and spa pump power
Property poles
Repair fuses
Repair lights
Replace transformer
Security lights
Sensor lights
Security systems
Sign lighting
Surge protection
Switchboard repairs
Switchboard installations
Tennis court lights
Three phase power upgrades
T5 fluorescent lighting
Underground cabling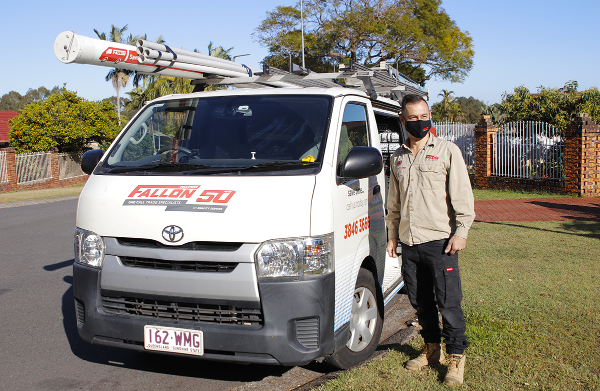 Your trusted local electricians
If you don't see your particular requirement listed above, we complete all kinds of industrial and commercial electrical repairs and home electrical work, so please call our office to discuss your requirements on 1300 054 488 or complete our quick online electrician service request form today.
ELECTRICAL FAQ