$99 Smoke Alarm Compliance Check*
For $99 a Fallon Solutions licenced electrician will perform a thorough compliance check of your current smoke alarm system and provide a recommendation on upgrades required. The inspection is conducted in accordance with the minimum Australian standards and the current legislation.
The Queensland smoke alarm legislation requires all substantially renovated residences and new properties approved after January 1st, 2017 to be fitted with interconnected, photoelectric smoke alarm systems.
Upgrades to exisiting or the installation of new hardwired smoke alarm systems must be carried out by a licenced electrician.
Our Smoke Alarm Compliance Check includes:
We will ensure your smoke alarms meet Australian standards and legislation.
We will then provide any recommendations on upgrades if required.
You will receive a smoke alarm compliance certificate.*
*A $25 fee per certificate will be charged.
Book a Smoke Alarm Compliance Check
Smoke alarm legislation
Smoke alarms must be located:

on each storey
in all bedrooms
in hallways that connect bedrooms to the rest of the house
if there's no hallway, between bedrooms and other parts of the storey
if there are no bedrooms on a storey, at least one smoke alarm must be installed in the most likely path of travel to exit the home

All smoke alarms must be the photoelectric type.
Smoke alarms must be either hardwired to your home's mains power supply with a battery backup, or 10-year non-removable lithium battery powered alarms.
Smoke alarms are required to be interconnected with every smoke alarm in the dwelling so if one is triggered all activate together providing the best and earliest warning of a fire.
Interconnection can be either wired or wireless.
For your safety and the safety of everyone in your home, hardwired smoke alarms must be installed by a licenced electrician.
Photoelectric smoke alarms only
The legislation also states that every alarm replaced or installed from 1 January 2017 must be a photoelectric type smoke alarm.
Ionisation style smoke alarms should no longer be used to replace or upgrade old alarms.
Smoke alarm checklist for your peace of mind
Installation timeframes
The installation timeframe relevant for your property will vary depending on your situation.
Homes built or significantly renovated with a completion date after 1 January 2017 will need to be installed with a interconnected photoelectric alarm system
Any homes leased or sold from 1 January 2017 will need to meet compliance after 5 years
All owner-occupied residents will need to meet compliance after 10 years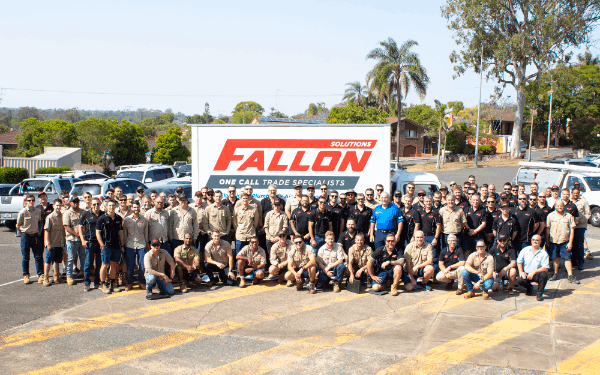 More information on smoke alarms
For more information on updating the smoke alarms in your property contact our electrical team on 1300 054 488 or complete our booking request form today.
*$99 COMPLIANCE CHECK TERMS AND CONDITIONS
Homeowner must be present.
Domestic job bookings only.
Offer applies during normal booking hours only, not after hours call outs.
$99 covers travel to site and compliance check only. Should the attending electrician determine any requirements to comply with the legislation they will discuss any additional costs with you. It is our duty of care to ensure your safety.
A $25 fee per certificate will be charged.
The compliance record is indicative of the state of the smoke alarms within the residence you have us attend at the date of inspection. Fallon Solutions accepts no responsibility or liability for your current installation and its condition pre or post the test date.
Cannot be used in conjunction with any other offer. (Home Protection Plan 15% discount may be used for any additional costs only.)
Can't be used with any membership loyalty gift card.
$50 loyalty cards can not be used as payment on any $99 offer.
ELECTRICAL FAQ