Electrician Brisbane
Trusted, local electrical contractors Brisbane
The team at Fallon Solutions value your time, whether it's power point installation, electrical repairs, data cabling, or security systems, our electricians are proficient, insured, and qualified in a huge variety of electrical services . We are committed to providing our customers with practical, efficient solutions for all their electrical installation, repair, and maintenance needs.
We offer a 24/7 emergency electrician service, to ensure you are never be caught out in the dark or with a dangerous electrical issue.
Book A Brisbane Electrician Now
High-quality electrical services Brisbane
Fallon Solutions electricians provide a very high level of electrical workmanship for our residential and commercial customers across Brisbane. Our company maintains this through ongoing industry training, guaranteeing our work 100%, and using quality parts and materials on every job.
We offer a huge range of electrical services to all areas of Brisbane including:
If the electrical problem you need help with is not listed here give our service team a call at 1300 054 488 we are sure to be able to help. Our dedicated support team handles all job enquiries and bookings, which means our Electricians can get on with your electrical work uninterrupted.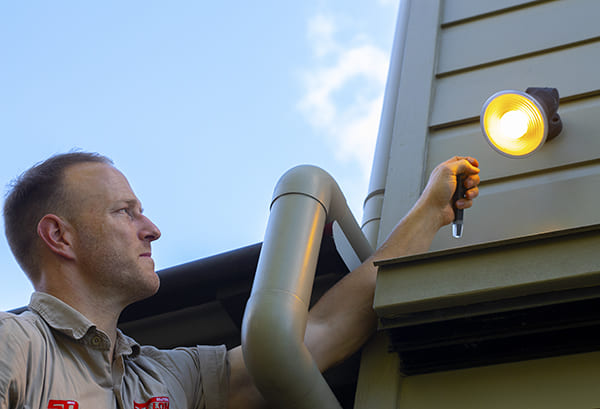 Emergency electrician Brisbane
Urgent electrical issues can occur at any time of the day or night which is why we provide an on-call emergency electrician who is ready to respond 24 hours a day, 7 days a week.
Potentially dangerous or power interrupting electrical problems need to be assessed by a professional electrician promptly. Issues such as power outs, repeated safety switch tripping, smoking or sparking power points or water damaged electrical infrastructure can't wait for the next business day, call our emergency electrician at 1300 054 488 for urgent repairs 24/7.
Why use Fallon electrical?
Often different licenses are needed to perform different types of electrical and trade work for a project or issue, this more often than not means finding multiple contractors qualified in each specific area and juggling schedules. This can be painfully time-consuming.
Fallon Solutions provides a huge range of trade services which means with one call you can lock in all the services you need, regardless of the project size or scope.
With over 50 years of experience servicing Brisbane's electrical needs, look no further for a reliable and fully qualified electrician. Our licensed Master electricians guarantee to be on time and are dedicated to providing you with top quality customer service, every time.
Prompt, professional electricians Brisbane
For the very best in electrical services throughout Brisbane contact our team at 1300 054 488 or complete our quick online electrician booking request today.
We can help with your electrical issues in Brisbane.