Electrical Services
Electricians for all your electrical needs
For over 60 years, Fallon Solutions have been providing the highest standard of electrical services. We're proud to be one of the main electrical companies in the city, we have a team of fully qualified master electricians ready to assist with all your electrical requirements.
Electrician Enquiry
Electricians who can be there when you need them
Fallon Solutions began back in 1962 when Neil Fallon was just 21 years old. Over the past 51 years, the business has grown and expanded immensely, and today has a well-earned reputation for not only being one of the biggest electrical companies but also renowned for our high quality of workmanship, prompt service and unsurpassed range of services. We have 50 service vehicles on the road, at any time, ensuring we can have someone at your door as soon as possible. We provide a comprehensive range of data and electrical services, to the following customers: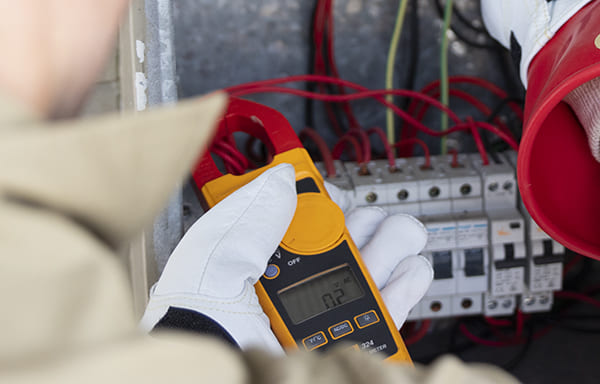 Electrical services we offer
Our qualified Master Electricians are available 7 days a week, 24 hours a day, 365 days a year. This means we can save you from any lengthy disruptions or breakdowns. Below is an extensive, alphabetical list of our services and electrical repairs. If you can't find your requirements there, just call and speak with one of our friendly staff. Our services include:
Backup generators
Bathroom heating and exhaust fans
Bathroom renovations
CCTV
Check wiring and check lights
Computer wiring
Disconnect stove and disconnect oven
Downlight covers
Electrical outlets
Electric repairs
Electrical switches
Energy saving devices
Exhaust fan
Fairy light installation
Garden lights
Hardwired smoke alarms
Inspections
Install cable
Install IXL Tastic
Install garbage disposal unit
Intercoms
Kitchen renovations
Lamp replacement
Lighting installations
Light poles
Loss of power
Low voltage lights
Phase out of incandescent light globes
Phone points
Plant maintenance
Preventative maintenance programs
Pool lights
Power points
Power poles
Pool pump power and spa pump power
Property poles
Repair light
Replace transformer
Security lights
Sensor lights
Sign lighting
Smoke alarms
Sports lighting
Swimming pool power
Switchboard upgrades
Switchboard repairs
Switchboard installations
Tennis court lights
Three phase power upgrades
T5 fluorescent lighting
Underground cabling
Electrical repairs
We employ 100 permanent staff members, this means we can service the whole region. By calling our central, all areas number, we will contact one of our service staff in your area, including:
Need help with anything electrical?
Contact Fallon Solutions today on 1300 054 488 or complete our service request and we will have a qualified tradesman to your door who can assist with all your electrical needs.
ELECTRICAL FAQ