Electrical Safety
We can help with your electrical safety
In Australia every year around 15 people are killed at home due to accidents involving electricity. Many of these accidents could have been averted by the installation of an electrical safety switch. Many more people are hospitalised each year with serious electrical injuries and burns.
Electrical Safety Enquiry
Electrical Safety Regulations
Electrical safety in your home and workplace needs to be taken extremely seriously. Our team of experienced master electricians receive regular training to ensure they are up to date with Queensland's Electrical Safety Regulation 2013 and the Electrical Safety Act 2002 and any amendments.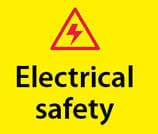 How to protect your home from an electrical surge
What are electrical surges, what can they do to my appliances & how do I make sure my home is protected? Our electrician Morris has the answers on surge protection.
Safety in your home and business
The Fallon Solutions electrical team can provide a range of electrical safety services for your home or business including:
certificates of compliance
We can visit your premises to carry out any of these safety services and checks to ensure your home or business is electrically safe. If electrical repairs or upgrades are needed our team can offer practical, cost-effective solutions.
Fallon Solutions Electrical Contractors
For all your electrical safety needs contact our experienced team on 1300 054 488 or complete our service request form today.
ELECTRICAL FAQ