Home Lighting
We have solutions for your interior lighting
It's tough to know what kind of lighting solutions are available for your home or business, and even tougher to know which one will be the best fit. There are so many different types of lighting solutions on the market, it can be hard to know which one is right for you. Do you need LED lights? Should you install a smart lighting system? What about solar lights?
Fallon Solutions offers a wide range of home and business lighting solutions that are perfect for any budget. We have a team of experienced electricians who can help you choose the perfect lighting solution for your needs and install it quickly and efficiently.
Fallon Solutions electrical team have all your home lighting requirements covered. Book a lighting specialist today.
Home Lighting Enquiry
Indoor lighting
Different rooms have different lighting needs, and it can be a juggling act to get it right. Furthermore, the correct interior lighting is an essential element to completing a room; indoor lighting is not something that you'll take notice of, if it has a good presence, however, when the lighting is poor and you're trying to perform a task, you'll notice it immediately.
LED home lighting
Changing the lighting in a room is a great way to change its look and feel. You'll be surprised to see the difference achieved with LED home lighting. This is an extremely energy efficient lighting, as well as giving good quality light; some people feel that by installing home LED lighting, you will achieve the closest effect you can get to natural daylight. Further advantages of LED energy efficient home lighting is that they last much longer and don't emit heat, which means that they even contribute to lowering your cooling costs.
Residential lighting
Residential lighting is for ambience, aesthetics, performing tasks and generally being able to see better around the home. Here are some tips on how to choose the perfect household lighting to suit your family:
Determine what your home lighting goals are: task lighting is focused on the space you are trying to work, whereas, ambient or indirect lighting, is used for overall lighting of a space and to create a mood. Each room in your home may have a different mood, as well as a function that you want your lighting to enhance.
Use multiple light sources for one space: for rooms such as the kitchen, bedrooms and living spaces, the use of multiple light sources will help achieve a variety of functions. Under cabinet lights can provide great task lighting in the kitchen, while in a living room, try a floor lamp next to a couch or reading chair. In bathrooms, the lighting at the mirror should be free from shadows and glaring light.
For high ceilings and modern décor, use recessed LED home lighting: these provide subtle interior lighting, can be directional and connected to dimmer switches to give a range of light, from dim to full brightness, to illuminate an entire room. In hard to reach ceilings, their long life means you won't need to change them for years.
In nurseries and kids' rooms, remember night lighting: think about the level of lighting required when children sleep; night lights can help small children from being scared, but can also help parents navigate through dark rooms. For nurseries, consider a dim wall sconce or table lamp that can be used for changing nappies or rocking a baby to sleep.
Lighting for safety and security on the exterior of your home: walkways, sidewalks, the front entry and perimeter of your house should be sufficiently lit with ambient lighting. Lighting that is too dim is a welcome sign for intruders, whilst having it too bright can be costly and disturbing to neighbours. Consider installing motion-activated floodlights at the exterior corners of your home.
Indoor & outdoor household lighting
Don't be frightened when choosing indoor lighting for your home, it can enhance the ambience and mood in each room. Just like the color of your rooms, lighting should enhance the space, show your individuality, and make it feel warm and inviting.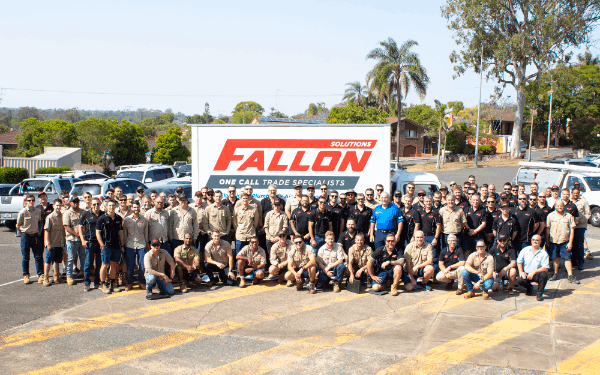 Need help with your home lighting?
Fallon Solutions team of master electricians can help you get the best lighting for your home. They will help you design and then install the best home lighting solution for your needs. With 50 vehicles on the road, we aim to have a qualified tradesman to you within 24 hours, to assist with all your home lighting.
Contact Fallon Solutions today, at 1300 054 488 or fill out an online enquiry form for expert lighting service and advice.
ELECTRICAL FAQ