Electrical Switchboard Upgrade
Professional switchboard installation, upgrade and repair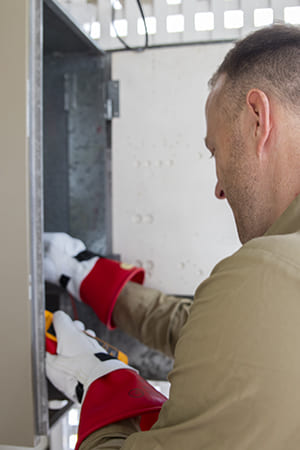 Our team of Master electricians can carry out all of your electrical switchboard wiring and switchboard upgrades to your home or commercial property. Fallon Solutions have been supplying electrical switchboard upgrades to properties for over 60 years and can be trusted to complete your job on time and on budget.
Older style buildings and homes that have rewire-able fuses pose a much higher risk of having an electrical fire occur. They also increase the risk of electrical shock. All modern switchboard installations have mandatory electrical safety switches installed, under the Queensland law. Safety Switches act when an electrical fault occurs and will isolate the circuit immediately.
Switchboard Upgrade Enquiry
Electrical Switchboards
If you are installing new appliances or having renovation work carried out in your home or business Fallon Solutions master electricians can assess the need for a switchboard upgrade, repair or installation of a new switchboard to prevent overloading.
Why would you need an electrical switchboard upgrade?
Older style switchboards with ceramic rewire-able fuses are designed to cater for a couple of household appliances. When these fuse boxes were installed homes had a fridge, washing machine and oven. Modern houses have so many more appliances in use every day that the old switchboards are now potential fire hazards due to overloading.
Because of this overburdening of the switchboards, these homes and businesses experience frequent power outs and tripping.
If you have added an extension to your home or business the current electrical switchboard may need to be upgraded to cope with the added needs. Even if your extension has only added lights and a few extra power points this could be enough to exceed the switchboard limits.
Renovations such as a kitchen or entertainment room could add extra stress to your electrical switchboard. Newer appliances and electrical equipment can draw more power and add to the demands of your fuse box.
Often older electrical switchboards are not fitted with electrical safety switches.
To reduce the risk of electrical fires.
A new switchboard installation has many more benefits, not the least being electrical safety.
What is Tariff 33?
What is Tariff 33?
Tariff 33 is known as the economy tariff and is best suited to water heaters and pool pumps. Tariff 33 is up to 40% less expensive than the regular domestic tariff. According to Energex, the electricity network provider in South-East Queensland, Tariff 33 is available for a minimum of 18 hours per day.
The times of supply for Tariff 33 are completely up to the network providers (Energex or Ergon) but it is most likely that Tariff 33 will be switched off between the peak hours of:
4-9pm at night.
6-9am in the morning.
As you can see there is plenty of time to run your pool pump and hot water system outside of these hours.
It is important to remember that the times of supply are at the network provider's discretion. On some days electricity supply may not be turned off at all.
What is Tariff 31?
What is Tariff 31?
Tariff 31 is known as the Super Economy Plan and is the cheapest off-peak tariff available for water heating. This tariff is about 59% cheaper than your normal domestic tariff.
However, tariff 31 is only available at low electricity-demand periods, such as at night when generators would otherwise be idle.
Electricity supply is made available for a minimum of eight hours per day at times set by the network owner (Energex or Ergon, depending on where you live) at their discretion.
In most cases Tariff 31 will be available between the hours of 10pm and 7am . On some days electricity supply may not be turned off.
Tariff 31 is best suited to water heaters and can be a great way to reduce your power bill.
Fallon Service Switchboards
Our Master Electricians can undertake all of the following switchboard work.
Install new switchboard
Upgrade existing switchboard and relevant wiring
Repair faulty electrical switchboards
Call Fallon Solutions on 1300 054 488 or complete our Electrical Enquiry to book a switchboard upgrade or an electrical switchboard wiring check.
ELECTRICAL FAQ