7 bathroom tasks to complete on a rainy day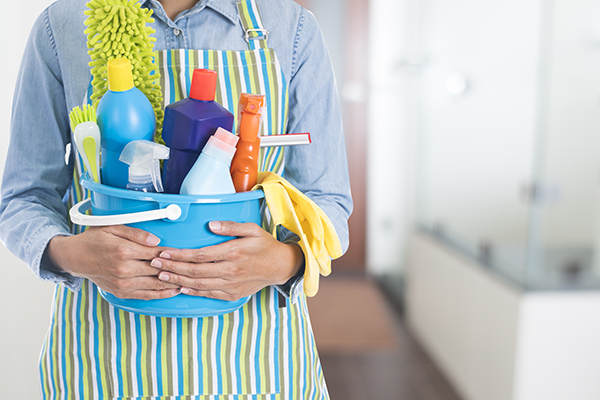 Published: February 11, 2021
It's an area the whole family uses multiple times a day, but when was the last time you gave your bathroom a thorough deep clean?
Get a head start on your home preparations for the holidays and make the most of a rainy day by getting your bathroom in top shape. Start by working your way through the following seven tasks.
1. Check your drains - how is it flowing?
Let's get started on resolving potential plumbing issues. Is the water in your bathroom sink draining away slowly or do you notice strange smells coming from your drain? These are telltale signs that your drain is blocked.
Some blockages are easier to remove than others; a plumber will be able to clear the drain, so you have one less thing to stress!
2. Is your toilet working as it should?
Toilet issues shouldn't be pushed aside, as they're not only annoying, little issues can also turn into major problems before you know it, so it's best to get these fixed as soon as they arise. If you're experiencing any plumbing issues in your bathroom, call a plumber and get these things sorted before you move on to the other tasks of your checklist.
3. Declutter your vanity and clean your bathroom basins
A simple way to get more storage space is to declutter the vanity. Chuck out any make up that has expired, and throw away empty shampoo bottles and razors that have seen better days. Give the vanity a good scrub. After cleaning your bathroom basins, add a new bar of soap or refill your soap pump and give the mirror a wipe down. Bling bling.
4. Clean shower screens and exhaust fans
It's easy to forget to use the shower squeegee after showering, leaving your shower screen covered with a soap film and water spots. Giving it a good clean will instantly make a real difference.
When you're done with the shower screen, give your exhaust fans a clean; apply hot soapy water to the vent cover and get rid of any dust by wiping the vent with a damp microfiber cloth.
5. Scrub tile grout
Okay, so this is something no one likes to do. It's probably the most disliked task besides cleaning the toilet. But no one wants unsightly discoloured or even mouldy grout on their bathroom walls either, so it has to be done. Head to Bunnings to get yourself a grout cleaning kit and get started!
6. Clean the bathroom floor
Turn up the radio and grab a mop and a bucket; your bathroom is about to get sparkling clean. Add some eucalyptus oil to the warm soapy water to give it a nice smell and start to mop down your bathroom floors.
7. How are your bathroom plants growing?
If your bathroom plants have been neglected a little, it's time to give them some attention. Prune your plants by carefully removing dead leaves. If some plants are outgrowing their pot, repot them. Don't forget to water your bathroom plants regularly and check if they are getting enough sunlight.
If a deep clean is not enough and you'd also like to update your bathroom, check out our tips on how to transform your area into a tropical oasis.
If you're feeling motivated and are looking for more things to get done on a rainy day, work your way through our handy hints home project to-do list.