Having a clean and well maintained air conditioner ensures that your family is breathing healthy air!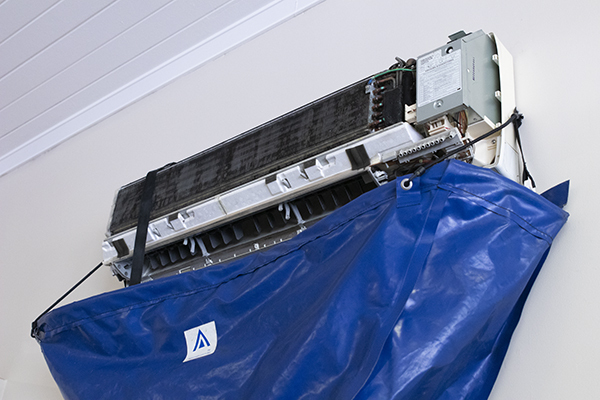 Published: March 23, 2020 Last Created: March 23, 2020
Regular use of your air conditioner means that cool air is circulating throughout your home, keeping you cool during the warmer months. However, even with standard usage, it is normal for a unit to become clogged with bacteria and dust spores made up of dead skin particles.
If left untouched, the bacteria and dust hidden in your air conditioning unit can mean that mould spreads inside the unit. This not only leads to a loss of airflow and higher running costs, but can also pose as a major health hazard to your home.
An intensive clean of your air conditioner is a simple process, but will ensure that your family is breathing healthy and uncontaminated air and you are getting the best out of your air conditioning unit.
During an intensive deep clean our professional HVAC technician will:
Wash down indoor covers and filters while protecting your indoor furnishings and carpets with a dust sheet
Fit a watertight runoff bag, hose and refuse bucket
Wash out air outlets and brush the fan scroll
Wash and rinse the coil of mould and other debris with anti-mould steriliser
Check and flush the drain pan and drain line
Carry out a visual inspection for refrigerant leaks
Inspect all electrical connections
Check the condensing unit for any infestations of vermin or insects
Wash down the condensing unit and clear obstructions to allow good air flow
During an intensive clean, it is not uncommon for the runoff to look like this:
It is clear to see that a lot of dust and mould can accumulate in the inner workings of your air conditioner.
As HVAC professionals, we understand that you wouldn't feel comfortable knowing that this amount of dirt and dust can be hidden in your air conditioner, contaminating and compromising the air quality in your home
A professional deep clean will get rid of these nasty particles and help improve the energy efficiency of your air conditioner.
If you would like to book an AC intense clean for your split system, give us a call on 1300 712 028 .