How to design a great kitchen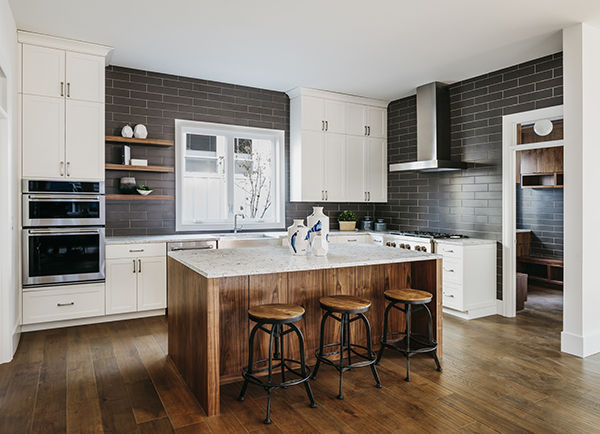 Published: March 06, 2018 Last Updated: February 11, 2022
The kitchen is the heart and hub of every home, as well as the centrepiece of a house when buying or selling, so when you're considering a kitchen installation, you want it to be comfortable, practical, efficient and stylish. You may look at a complete teardown and remodel yourself with the use of flat pack kitchens, or go the whole way and hire a professional to do the job for you, including a licensed master plumber and licensed master electrician.
What makes a good kitchen installation?
A successful kitchen is not only functional, laid out in a way that makes working in it easy and practical but should also be aesthetically pleasing. Don't forget, it should also reflect your own tastes and lifestyle.
A new kitchen or a remodel?
If your kitchen is no longer inspiring you or perhaps you've outgrown it, you may not need to tear it down and start from scratch. It's amazing what a difference you'll feel with some simple resurfacing, remodelling and redecorating.
What is the kitchen work triangle?
The golden rule, when it comes to the practical side of a kitchen installation, is to use the 'kitchen work triangle'. Most kitchen activities are repetitive and involve the use of two or three sections of the kitchen:
the stove,
the sink and
the refrigerator.
Drawing a line between these three stations to make a triangle is what's known as the kitchen work triangle. In a successful kitchen, you should be able to move freely and unobstructed between these three areas. A general rule of thumb for size is: the sum of the three lines in the triangle should measure 3.6 metres, but be no greater than 8 metres. Each side should be a minimum of 1.2 metres but no longer than 2.7 metres. As always, these rules are flexible.
Points to consider when designing your new kitchen:
Budget - plan your 'must haves', as well as a 'nice to have' list.
Hire someone to do the work or DIY; your budget may help with this decision. Obviously, hiring a designer will cost more but will give a professional touch. A more cost-effective option is to install it yourself, using a flat pack kitchen.
Either of the above options will require hiring a licensed master plumber and licensed master electrician to complete the job.
Consider the size and ages of your family.
Consider the layout and everyday functionality of your new kitchen; do you need to watch young children whilst cooking, do you need room for two cooks, do you want to include an eating area, such as a breakfast bar or dining table.
Do you want a window positioned to include the view, a window over the sink gives a relaxing feel.
The more practical considerations, for regulations and safety, include:
no opening windows or curtains near the stove
an exhaust fan that will discharge outside
adequate natural light and ventilation
adequate bench space
sufficient power points, located at a safe distance from the water outlet
adequate and accessible storage space
adequate task lighting, positioned over work areas safe storage for sharp utensils
integrating appliances so that they're accessible on the bench
Your kitchen is the social hub
Any successful kitchen must have enough room for several people to congregate. No matter what the occasion, people always tend to gravitate towards the kitchen. Smaller kitchens still work well when they open onto an adjoining family room, where guests can gather and the cook can still be included in the conversation.
Fallon Services can take care of all your kitchen plumbing, electrical and flat-pack installation. Contact us today on 1300 762 260 or complete our Enquiry Form and one of our team will contact you.