How To Protect Your Family & Home In A Storm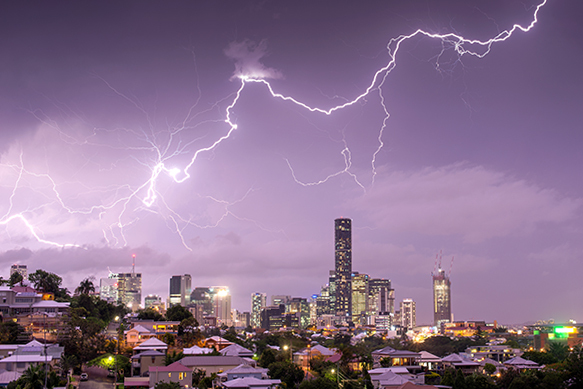 Published: March 21, 2019 Last Updated: March 16, 2022
As residents of South East Queensland, we usually expect heavy showers and plenty of storms during the summer months, but this year, the long dry spell has left us wondering if we skipped storm season. But, Autumn has just arrived and it looks like we may make up for the missing storms so we've put together some helpful tips to make sure you're ready when the thunder starts rolling in.
How to prepare for the storm
Clear the gutters and downpipes around the house, trim tree branches & secure loose items
Check your safety switch, if it's not working call a licensed electrician to fix the issue
Pack a home emergency kit. We recommend including; a power bank to charge devices, torch, portable radio, personal documents, cash, first aid kit, food, water and an emergency plan and emergency numbers. You can download emergency numbers for your local area.
Learn how to safely turn off the electricity, water and gas to your home
Ensure your insurance policies are up to date. This includes home, contents, vehicle and health.
What to do during the storm
Switch off & unplug all electrical equipment when the storm approaches
Stay up to date with the storm progress by listening to the radio or looking monitoring the Bureau of Meteorology website
Don't use a fixed telephone during the storm, it can deliver an electric shock
If you're driving during the storm, stay in your vehicle (as long as it's safe) and keep away from trees and powerlines
Recovering from the storm
Avoid any fallen or damaged powerlines
Continue to listen for official warnings
Stay clear of switchboards if they have been damaged by water or fire
Contact a licensed electrician to perform a safety check to ensure all wiring, equipment & switchboard are working correctly
Do not attempt to carry out your own electrical work at any time, as this could result in life-threatening injuries.
To arrange an Electrical Safety Check of your home or if you have any electrical issues, call us on