2021 Mitsubishi Electric Bonus Cash Card Offer Starts Soon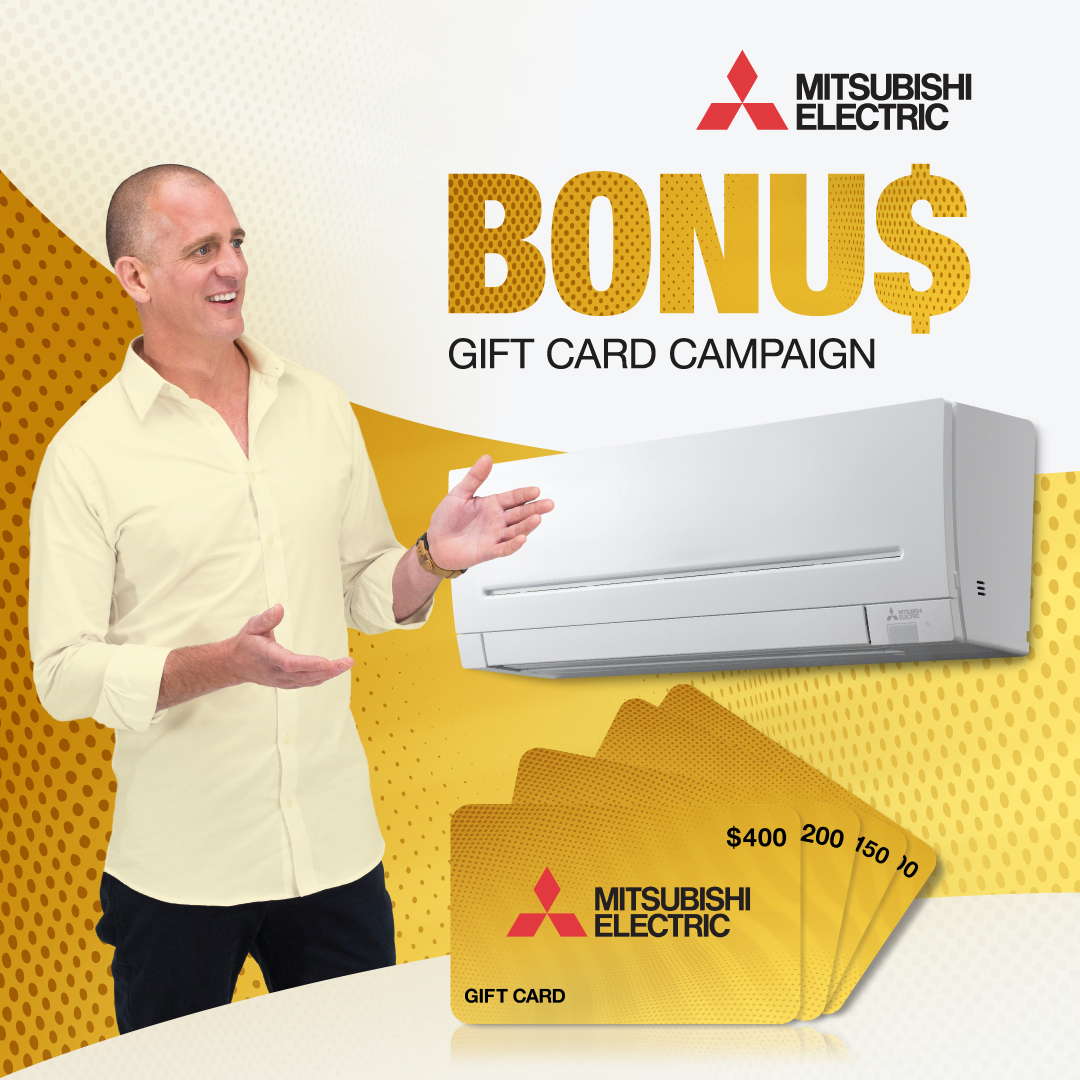 Published: March 30, 2021 Last Updated: July 27, 2021
It's a well known fact that buying products off-season can provide serious savings if you shop smart. This goes for everything from ski gear to sun hats but is especially relevant if you're in the market for a new air conditioner.
Autumn and winter are the perfect time to get a really great deal on a split or ducted air conditioner for your home. Premium brands like Mitsubishi Electric are offering customers amazing incentives and savings during the quieter time of the year for the air conditioning industry.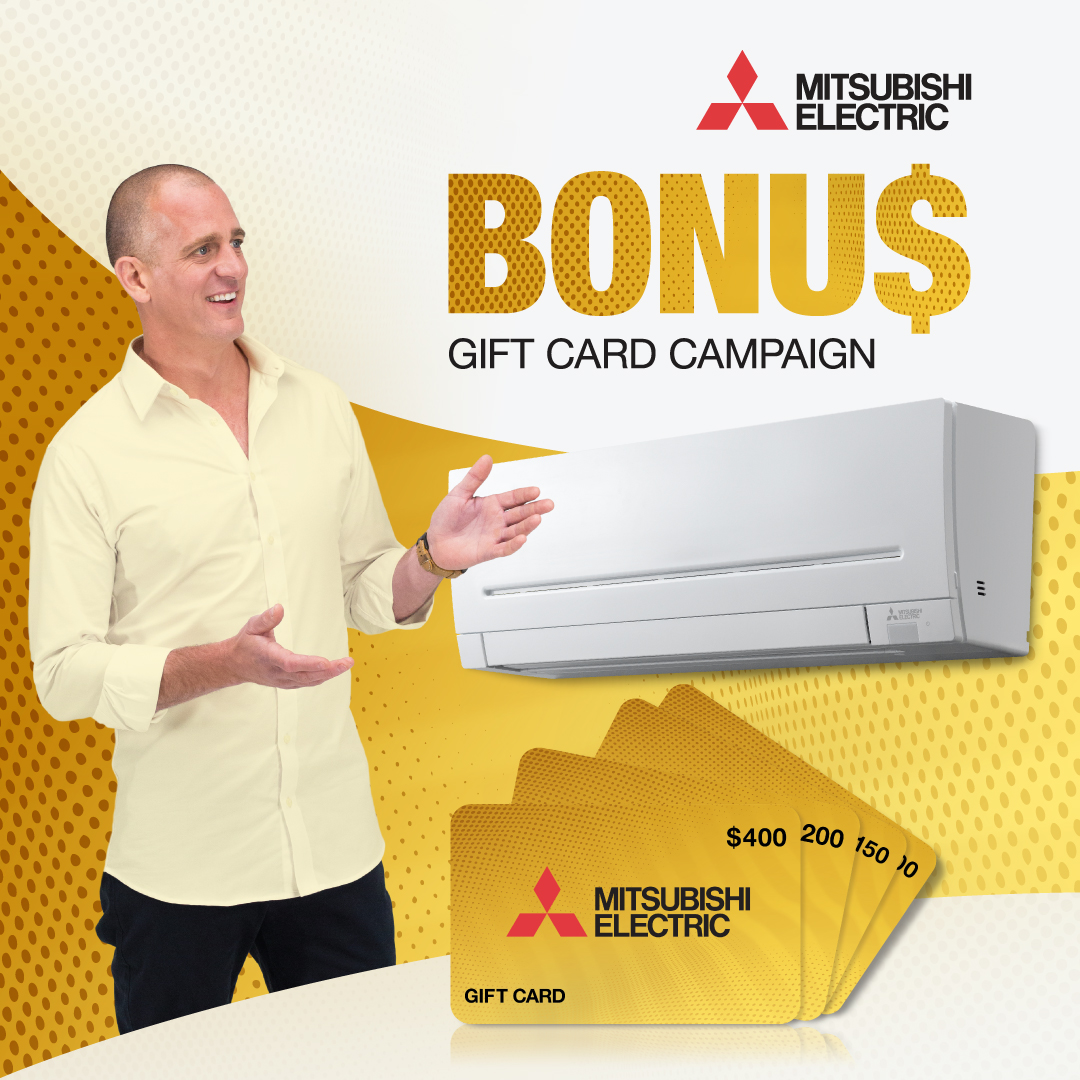 Mitsubishi Electric's 2021 Winter Gift Card Campaign is kicking off on the 1st April 2021 which means when you buy an eligible Mitsubishi Electric split system or ducted air conditioner you could receive a Bonus Gift Card up to the value of $400!
Fallon Solutions will double your bonus aircon gift card!
To make the deal even sweeter, if you buy and install your eligible Mitsubishi Electric air conditioner with Fallon Solutions during the promotion period we will match the Gift Card value.
Doubling your bonus means you could receive up to $800 in gift cards!
Speak to our air conditioning service team for full details.
Important details about this great air conditioner deal
The Mitsubishi Electric Bonus Gift Card deal starts on 1 April 2021 and runs to 31 July 2021.
When you purchase one of the selected split system or ducted units during this period you could be eligible for a gift card to the value of either $100, $150, $200, or $400.
Fallon Solutions will match your Mitusbishi Electric gift card with a gift card of the same value when you purchase and install your aircon with us.
The offer is open to residential air conditioner purchases only.
Claims are open from 12 April 2021 here - https://mitsubishi.edgeclaims.com.au/
Claims must be submitted by 31 August 2021
Key Gift Card eligibility requirements:
The consumer to have made a deposit for the unit prior to 31 July 2021 (with proof of payment receipt), and
Installation completed by 30 September 2021, and
Full payment must be made by 30 September 2021, and
Claim must be submitted by 7 October 2021.
For other eligibility requirements, refer to the Terms & Conditions at https://mitsubishi.edgeclaims.com.au/
How to claim your Mitsubishi Electric aircon gift card?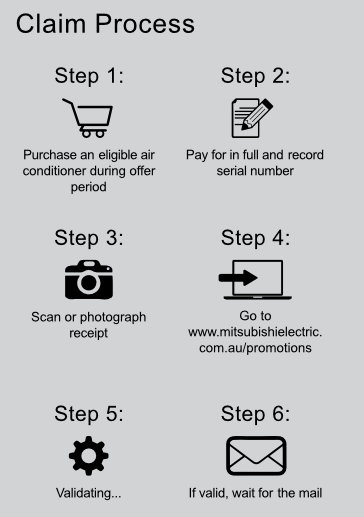 Keep your receipt handy - a copy of your receipt needs to be submitted with your claim.
Your aircon serial number needs to be included with your claim.
You can claim up to 3 units per household
Activate your Mitsubishi Electric gift card here - https://activatemycard.giftcardplanet.com.au/meaust
To take advantage of this great Mitusbishi Electric and Fallon Soltuions cash card offer in Brisbane and the Gold Coast contact our air conditioning team at 1300 762 260 or complete our quick online aircon booking today.