The Block Bathroom Blow Outs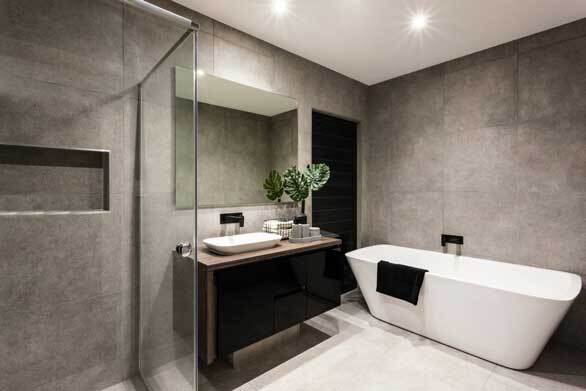 Published: August 28, 2019 Last Updated: March 16, 2022
This season of the block has kicked off to an expensive start with contestants having already spent up to $61,000 on just the bathroom renovation.
For those of us who don't have deep pockets filled with sponsorship money, that's usually the budget set to renovate an entire property.
There's a definite contrast between renovations on The Block and real-life renovations. The Block contestants focus mainly on design and this is where most of the budget goes down the drain.
With renovations, especially complex rooms like a bathroom, it's important to plan your budget. Know what to cut costs on and what not to skimp on in order to get the best results without issues later on down the track.
Here are some tips on how to allocate your budget.
Quality
The bathroom is the most used and abused room in your house. Where waterproofing or large plumbing fixtures fail, the repair bill is much larger. If you invest in quality products and have them fitted by a professional, you may not have to think about having them replaced for years. Quality products don't have to blow the budget. If you find the right supplier, most of their mid-range priced items provide quality without compromising design.
Bath
A common trend on The Block bathroom renovations was the statement baths. In some cases, they're not always practical and can be too costly. They're also less efficient than showers, adding to your hot water bill. If you're looking to resell, a bath makes your home more desirable to young families. If a bath isn't an option for your bathroom, a shower with a detachable showerhead is a good compromise for functionality and resell value.
Cisterns
In-wall cisterns are a new design feature of many modern bathrooms. But, they can become a problem if you don't invest in quality and don't have them installed correctly. Remember, having a cistern in the wall means it's very hard to get to if something goes wrong. If it leaks it can be very painful to repair the damage and replace it. Make sure you buy from a supplier that you can trust and will give a parts warranty. Have them installed by a professional who can also give you some peace of mind.
Electrical
If downlights are part of your bathroom design, consider having LED downlights installed. These are safer and more energy-efficient than halogen and will save you money in the long run. Electrical components should always be installed by a professional, especially in a wet area. A professional will also be able to advise you on the best options for exhaust fans and other components to help make the renovation and your power bills more cost-effective.
Key tips for saving money on a bathroom renovation
Careful planning: Plan design, functionality and how everything will be done so that you avoid costly variations and changes later
Make sure all fittings are certified: Products that comply with Australian Standards will be labelled with the WaterMark symbol. Make sure that you are buying from a quality supplier or speak to a plumber about what fittings to look out for.
Save your vanity: You can completely transform your vanity with just a lick of paint and new handles. If you're wanting to fit a new sink, consider looking for new options that fit the existing vanity top.
Shop around for tiles: We've all heard the ad on the radio... there are always clearance sales, so listen out for them. Consider having cheaper tiles for the majority of the fitting and, if necessary, incorporate more luxury tiles as features.