Hot Water System Check
$99 Hot Water Inspection
Having trouble with your hot water system? Our hot water specialists can help. Fallon Solutions offers a comprehensive $99 Hot Water System Check to get to the bottom of your hot water issues to find out exactly whats going wrong and what needs to be done to fix it.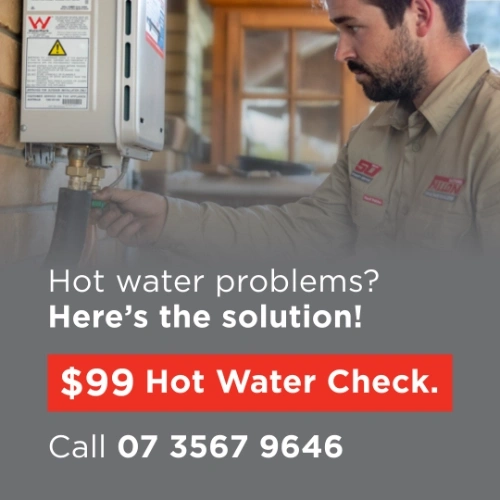 Our hot water experts can provide advice on a huge range of problems including:
No hot water
Hot water too hot or too cold
Hot water runs out very fast
Brown or dirty water
Noisy hot water system
Our Hot Water System Check includes
Check the overall condition of your hot water system.
Test your valves and check relief drain for any blockages.
Test water temperature and inspect pipework.
Find out exactly what's going on with your hot water system. Book our $99 Hot Water System Check today at 1300 712 028. Mention this promotion when booking.
Book $99 Hot Water Check Today
Terms & conditions
Homeowner must be present.
Domestic job bookings only.
Offer applies during normal booking hours only, not after hours call outs.
$99 covers travel to site and Hot Water System check only. Should the attending plumber determine any requirements, they will discuss any additional costs with you.
Cannot be used in conjunction with any other offer. (Home Protection Plan 15% discount may be used for any additional costs only.)
Can't be used with any membership loyalty gift card.
$50 loyalty cards can not be used as payment on any $99 offer.
HOT WATER FAQ