Hot Water System Installation
Your local hot water installation specialists
Fallon Solutions experienced hot water team can take care of all your hot water system installation needs across Brisbane and the Gold Coast. We offer the supply and installation of a huge range of leading hot water heater brands including Rheem, Rinnai, Dux, Bosch, and Apricus. Our team can install electric, gas, solar, heat pump, and instant hot water systems for homes and businesses throughout the region.
Hot Water Installation Enquiry
Expert tips when choosing a new hot water system
Buying a new hot water service, whether you're replacing an existing hot water system or building and renovating, presents a great opportunity to choose an energy-efficient unit which will provide your home or business with abundant hot water now and in the future.
If you are looking for a replacement hot water heater don't fall into the trap of just throwing in the same style as you had before. In the 10 or 20 years since your last unit was manufactured industry developments have come a long way. Modern electric hot water systems are much more energy efficient than older models. However, don't limit options homes which had an electric system could upgrade to solar hot water, instant gas hot water system, or heat pump style units, all of which can present significant operational savings.







Speak to one of our hot water specialists for expert advice on choosing the most efficient system, in the perfect style and size to cope with the hot water requirements for your home or business.
Fallon hot water installation services
Our trade team can supply all the skills and equipment needed to install your residential or commercial hot water system. We'll take care of the electrical work and plumbing services as well as supplying the unit and getting rid of your old system if needed.
Our handy Hot Water Calculator can help you work out what size and style will suit your homes water heating needs.
Types of hot water systems installed
We can supply and install:
Electric hot water systems - storage and instant
Gas hot water systems - storage, instant
Solar hot water - both gas or electric boosted
Heat pump hot water units
Instant hot water systems - indoor or outdoor units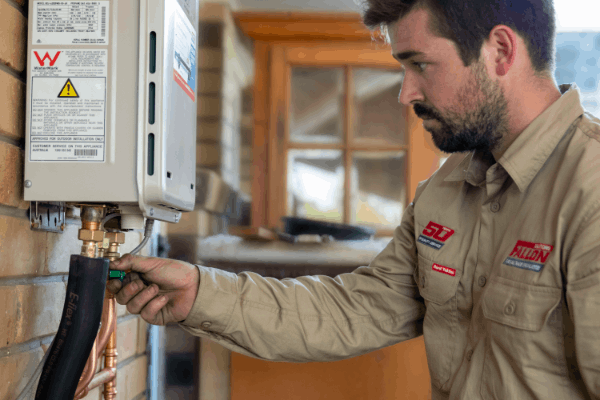 Professional hot water unit installation - Brisbane & Gold Coast
For the very best in professional hot water system installation contact our team at 1300 054 488 or complete our hot water install quote request today.
HOT WATER FAQ