What to do if your hot water system is leaking?
How to manage a leak in your hot water system
Water leaks are a serious problem and should be dealt with immediately, no matter how severe the leak is. There are some main steps you should follow when you discover a water leak from your hot water system in your home, which are: find where the leak is, turn off your water supply and call a professional. This information article will provide you with a more in depth understanding of each of these steps.
Find where is the leak coming from
The first step you should take in this process is to find where the leak is coming from in your system. It is very important to know the location of the leak, as this can affect the cost of the repair and the type of repair.
Pressure relief valve
If there is a leak coming from the pressure relief valve of your hot water system, then it may not be a problem. Pressure relief valves (PRV) are designed to relieve the system of pressure if it becomes too high. The valve does this by occasionally expelling small amounts of water from the system, so if you notice this, the valve is working properly. If the valve continues to release large amounts of water it may be broken and in need of a replacement.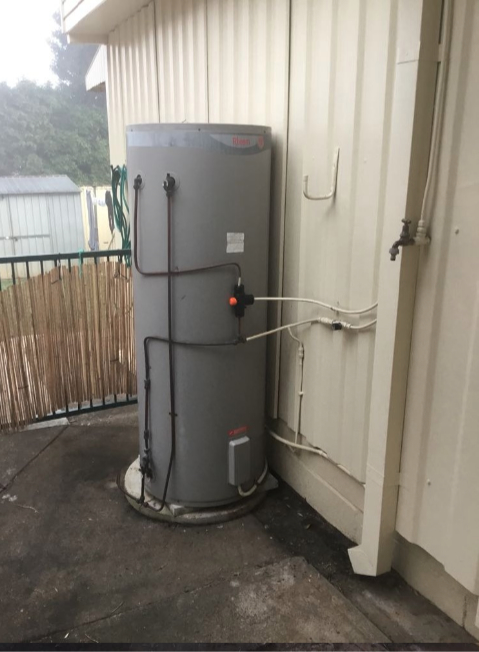 Top or bottom of the water tank
When the tank of a solar or electric hot water system is leaking from the top or bottom, you must turn off the power to the system straight away. If the leaking water comes into contact with any electrical points, the water can cause major damage to the electrical components of the system and is a very serious safety issue. These systems generally have their own circuit breaker so you will still be able to have power for the rest of your house.
Turn off the water supply
After determining the location of the leak and that it is a problem, turn off the water supply. This can be done either directly at the hot water system or for the entire house. There should be a control dial on the water connection pipe that is fixed generally to the bottom of the system, which will allow you to shut off the water supply that goes directly to the system itself. If you are unable to do this, then you will have to shut off the main water supply to your home. Although this may seem rather inconvenient, stopping water from entering the leaking system is critical to minimising any water damage, which could save you lots of time and money.
Contact a professional plumber
The next step is to contact a professional. As tempting as DIY sounds, hiring a licensed hot water repair professional (plumber) is the best option. They will arrive at the site efficiently, bringing all of the tools and knowledge required to complete the job safely. The job will be completed to a professional standard, so you can ensure that the repair will last as long as possible and that you will get the most out of your money.
Also, if your system is too damaged to be repaired, you will require a hot water system replacement service. Don't risk injuring yourself removing your old system, leave it to the professionals who have years under their belt dealing with all sorts of hot water systems. To save time and money, hire a professional.
Your local hot water leak professionals
If your hot water system is leaking, get in touch with Fallon Solutions immediately for a hassle free repair service. Our team of fully licensed and trained plumbers and electricians can complete efficient, effective repairs and replacements for a wide range of hot water system brands and models. Don't leave your home at risk of any water damage and contact us now to fix your leaking hot water system. Call us on 1300 762 260 or complete our hot water replacement booking form.
Or
browse by a specific service