Solar Hot Water Systems
Save on hot water, install a quality solar water heater
Southeast Queensland provides an ideal climate for your home to benefit greatly from installing a solar hot water system, with warm sunny summers and temperate winters meaning plenty of sunshine to provide your family with a good supply of hot water all year round. That is why the Fallon Solutions team offers the supply, installation, and servicing of top quality brand Rinnai solar hot water systems all year round. Hot water is such a crucial component of everyday life, so make sure your supply is always available when you need it. Give us a call to find out more now!
Solar Hot Water Enquiry
Fallon Solutions can take care of all your hot water system needs.
Why choose solar hot water?
With electricity and gas prices on the rise, alternative water heating options such as solar and heat pump are becoming increasingly popular. Recent advances in panel and evacuated tube collector efficiency have led to an increase in solar hot water system effectiveness, even during overcast or low light days.
To ensure your home has hot water even on the odd very cloudy day or during times of high demand, solar water heaters are fitted with an electric or gas (LPG or natural) booster heater.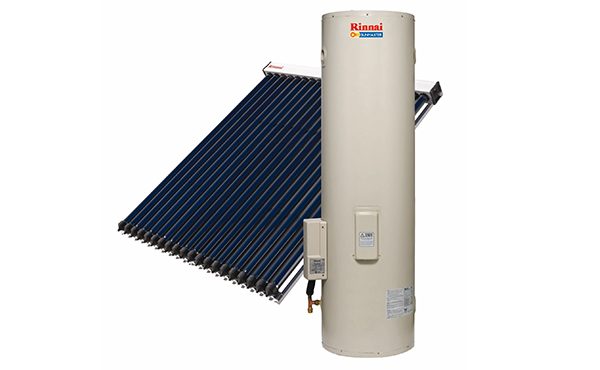 Advantages of using solar for water heating
Greatly reduced power bills.
Environmentally friendly and produces less greenhouse gas than other styles.
Solar hot water systems are eligible rebates in the form of Small-scale Technology Certificates (STC's).
Solar utilizes a free, renewable and abundant energy resource.
Lowers our country's dependence on fossil fuels.
Can increase the value and/or saleability of your home.
Low maintenance costs.

Choice of gas or electric boosters.
Install solar hot water today - the eco-friendly choice
Make the switch to solar hot water today, you'll be pleasantly surprised with the savings on your next energy bill. Schedule your installation by contacting our service team on 1300 054 488 or complete the online booking form .
HOT WATER FAQ