Tempering Valves
Is your hot water system too hot?
A tempering valve is an important part of any hot water system , but if it's not installed or repaired correctly, it can cause all sorts of problems. A tempering valve helps to regulate the temperature of your hot water, making sure that you always have a consistent flow of hot water without any sudden changes in temperature. If your tempering valve isn't working properly, you could end up with cold showers or worse.
Fallon Solutions offers professional installation and repairs for tempering valves in Brisbane, Logan Gold Coast, Sunshine Coast, Moreton Bay. We have years of experience in this field and our team of qualified plumbers will get the job done right - the first time.
Tempering Valve Enquiry
Why do I need to install a tempering valve on a domestic hot water system?
Tempering values must be installed on new hot water systems so that your hot water complies with Australian Standards (AS 3500). This legislation requires hot water to be set at a temperature to minimise the risk of scalding. In Queensland, you must install a tempering value if you are replacing a hot water system.
Hot water not set to the correct temperature results in hundreds of scalding cases each year. It is essential that if your hot water is too hot that you install a tempering valve to maintain a constant temperature and avoid the risk of scalds. Ensure your hot water is safe, contact Fallon Solutions plumbing team for the installation or testing of tempering valves in your home or business.
What is a tempering valve?
A tempering valve is one of the best ways to ensure people are not harmed or scalded by hot water when it comes out of a faucet. It works as a mixing tool, as it combines both cold and hot water to correctly produce the required water temperature to be released from a particular outlet.
Find out more about tempering valves here - What is a tempering valve?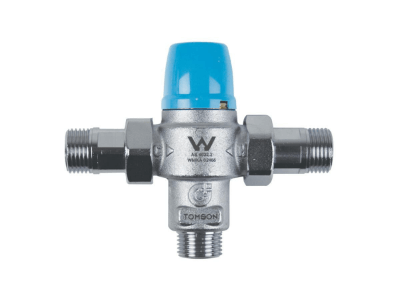 How does a tempering valve work?
In essence, a tempering value blends hot and cold water to ensure that the output is delivering the right temperature for the application. There are a range of different tempering valves depending on the plumbing application and vary between domestic and commercial applications.
Understanding the function of your hot water valves
From preventing scalding and burns to releasing pressure in the tank; hot water valves can have many different functions. Our plumber Josh explains how each of the hot water valves works on a storage electric hot water system. In this Fallon Solutions video we will explain the different valves on your hot water system and what they do.
Are tempering valves compulsory?
The short answer is yes. In all new homes or renovations, it is compulsory that your licenced plumber installs a tempering valve or thermostatic mixing valve to your hot water system.
What are the different types of tempering valves?
Blue cap tempering valve - commonly used for electric water heaters.
Green cap tempering valve - designed for gas hot water systems.
Orange cap tempering valve - solar hot water and heat pump hot water systems.
Black cap tempering valve - for large capacity systems.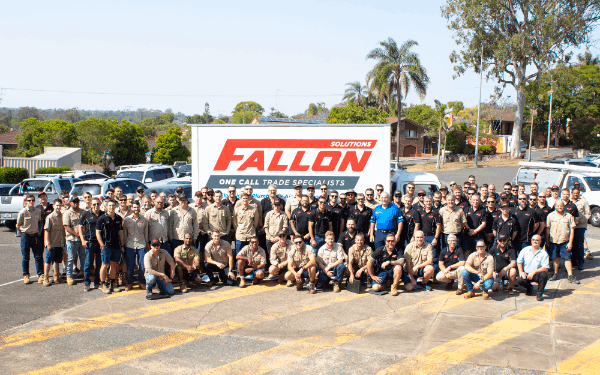 Confused about tempering valves?
Fallon Solutions Master Plumbers keep abreast of all the latest plumbing laws and can ensure that your plumbing is installed to the relevant Australian Standards.
If you are making changes to your hot water system and need advice, get in touch with the team at Fallon Solutions for all of your hot water system requirements on 1300 054 488 or complete our booking form today.
HOT WATER FAQ