Water Leak Detection
Are you experiencing unexplained high water bills?
Water leaks can be difficult to find and are often in places which are either hard to get to or difficult to trace the source. Leaks can often occur behind walls or under slabs, in sewer pipes or stormwater drains, and can be the result of a blocked drain, burst pipe or faulty plumbing fixtures. The Fallon Solutionsplumbing team will use the latest in leak detection equipment to quickly find the cause of your high water bills, saving you both time and money.
Don't wait for water to damage your property, book a comprehensive leak detection service today.
*Please note, we do not complete leak detection works on pools or fire systems at this time.
Types of water leaks
The fresh water coming into your home runs under pressure through the mains water pipe which means a burst pipe can quickly become a huge issue in your home. The waste water leaving your home through the sewer system (everything that goes down the sink, toilet, bath, shower, etc.) and the rainwater travelling through the stormwater drains is gravity fed which usually leads to slower leaks (unless it has been raining or your have a blocked drain). With this in mind, there are generally 3 different types of water leaks:
Stormwater leak : Is this leak only occurring when it is raining? If so, it is likely a stormwater leak.
Leaking sewer drain : Does the leak have a bad odour? If so, it is commonly a sewer leak.
Mains water supply : Does the water bubble up? If so, it is likely a water supply leak.
All three of these options mean one thing - call a Fallon Solutions plumber today!
Finding the leak
Apart from high water expenses, there are many other signs to look out for that could indicate that your pipes have burst or you have a broken drain.
Wet areas of the garden that never seem to dry up.
An unexplained growth of the plants or trees in one area of your garden.
Damp or mould growth on walls, ceilings, and flooring.
Cracks appearing in concrete, brickwork, or tiles.
Persistent water stains on walls, ceilings, floors or woodwork.
Warped or expanded cabinetry.
Areas of paint chipping or bubbling.
A musty or damp smell.
If you see (or smell) any of these signs, get in a professional to help out (like Fallon Solutions!).
Checking the meter
Set aside a period where you won't need water for at least two hours. Turn off all the taps throughout your property and home, and switch off any water using appliances (such as the dishwasher, washing machine and hot water system*). Take a note of the meter reading of your home's water meter then re-read the meter after two hours. If the reading has changed you could have a leak in the mains water pipe.
*Consult your hot water system manual for correct procedures
Flo by Moen smart home leak protection system
If you are wanting to view and control the use of water in your home, as well as monitor leaks and water usage data whenever you need, a Flo by Moen system is the perfect solution.
Find out more about this state of the art leak protection system - Flo by Moen Leak Protector
Commercial leak detection solutions
The Fallon Solutions technicians don't just assist homes - we help workplaces too! Our qualified plumbers can help your business locate a leak and provide discreet and practical solutions to suit your needs. We understand how disruptive plumbing works can be for a business, so we work within the times best for you, your business and your clients, causing as little interference as possible and working effectively and efficiently. We wouldn't want our workplace to be disrupted by a water leak, so yours shouldn't have too either.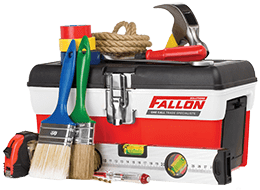 Fallon Solutions leak detection services
Fallon Solutions provides a professional water leak detection service. We utilise the latest in leak detection technology such as CCTV drain cameras to ensure we accurately locate the burst pipe or broken drain quickly to enable targeted repairs to be carried out.
If you're worried your home has a water leak contact our experienced plumbing team on 1300 054 488 or complete our leak detection service request form for fast, efficient leak detection and pipe repairs today.