Backflow Prevention
Backflow prevention device installation & servicing
Fallon Solutions are experienced licensed plumbers that specialise in installing backflow prevention devices. Backflow prevention devices ensure that there isn't any reverse flow of contaminated water from your property into the local water supply system and in Queensland, you are required by law to have one.
Backflow Prevention Enquiry
What is backflow?
Australia has some of the cleanest water in the world, which we use for drinking, cooking and cleaning without any qualms about potentially getting sick. This is in part thanks to the regulations that we have in place for backflow prevention.
To ensure that the water in your home stays clean and healthy, it is important to have a backflow prevention device installed by an experienced plumber as this prevents contaminated water from flowing into our drinking water supply.
Backflow is water that reverses its flow and travels backwards into our pipes after a property has used it. There are 2 reasons why backflow occurs: back pressure and back siphonage.
Back pressure happens when the downstream water pressure rises above that of the supply pressure and can be due to elevation, pumps or combination of other factors.
Back siphonage occurs when a large amount of water is taken from the mains for example, when a pipe bursts or when firefighters use the mains supply to put out a fire. The vast amount of water taken can form a vacuum in the system which can cause the water to flow back the wrong way.
Do I need a backflow prevention device?
All properties that are connected to the main water supply must, by law, have a site containment backflow prevention device installed.
Examples of potential sources of contamination:
Irrigation
Fire hose reel
Swimming pool
Ornamental pond
Vehicle or bin washing bay
Air conditioning tower
Water outlet near to pollutants, grease traps or chemicals
You will need to install a backflow prevention device if any of the following potential sources of contamination apply to your property:
Irrigation system
Fire system
Dishwasher
Smart toilet
Bidet toilet
Wash bays
Spa
Rain tank connected to the property
Commercial or industrial equipment
Levels of hazards
Every property that is connected to the main water supply is evaluated for the level of hazard present. These ratings are determined Under AS/NZS 3500.1 and are as follows:
Low level hazard - any condition, device or practice in which connection with the water supply system could constitute a nuisance but not endanger health or cause injury
Medium level hazard - any condition, device or practice in which connection with the water supply system could endanger health
High level hazard - any condition, device or practice in which connection with the water supply system has the potential to cause death
The level of risk ascertained will determine the level of hazard which equates to the type of backflow device that you will need to have installed.
Types of backflow devices
Single check valve
A single check valve (SCV) is basically a 1-way valve that prevents backflow.
Double check valve
Double check valves (DC) are used for low hazard conditions. If the pressure at your property becomes greater than that in the mains, 2 check valves close to stop the water flowing backwards.
Reduced pressure zone
A reduced pressure zone (RPZ) consists of 2 independent check valves that stop the water flowing backwards. RPZ provides the highest level of protection for your water supply and therefore tends to be used for high level hazards. It works like the DCV but also has a relief valve that opens if both the main check valves fail.
Dual check valve
A dual check valve (DCV) backflow preventer is similar to the DC device however, the DCV device cannot be tested and repaired so you will not be able to tell when it is damaged or about to fail. The DCV does not need to be registered or tested annually (as it cannot).
AS/NZS 3500.1:2003 provides information about the backflow prevention devices for particular applications.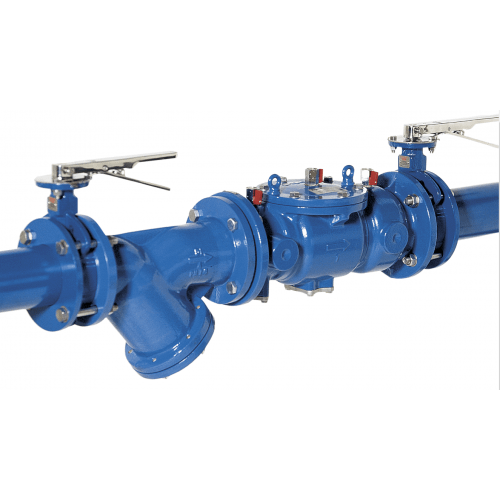 Backflow device owner's responsibilities
SCV, DC and RPZ are all testable backflow preventers and must be tested annually by a licensed plumber. The owner's responsibilities for these devices are as follows:
Have all devices installed by a licensed plumber
Register the device with the council by providing a copy of the initial test report
Have it tested by a licensed plumber annually
Ensure that there is adequate access to devices for testing and maintenance
The QLD government charges a backflow prevention device annual registration fee of $71 and after initial installation, you must have the device tested by an accredited backflow prevention device tester annually.
Toilet bidets and backflow prevention
Toilet bidets and smart toilets are becoming increasingly popular with many options now available on the market. But there are regulations involved to avoid backflow.
A toilet bidet, or douche, must comply with AS/NZS 3500 Part 1 Water Services Clause 12.2.3.
This states that a douche outlet installed at least 25mm above the overflow level of the pan, at any position, does not require a backflow device.
If the douche outlet is less than 25mm above the overflow level of the pan, at any position, a 'high hazard' backflow prevention device must be installed. This device must comply with AS/NZS 2845.1 or AS 2845.2.
Your local backflow prevention professionals
For the very best in backflow prevention solutions throughout Brisbane, the Sunshine Coast, Logan, Ipswich, and the Gold Coast contact our team on 1300 054 488.
PLUMBING FAQ