Bidet Installation
Professional bidet toilet plumbing installation
So, you've purchased a new bidet toilet; no more fighting over limited toilet roll supplies in the supermarket, no more throwing your hard earned dollars down the toilet, and now you're ready to embrace the future and the hygiene benefits that come with a bidet. But it is incredibly important that you are aware of the regulatory requirements when it comes to installing bidets and smart toilets in any form.
Fallon Solutions are master plumbers and have qualified and reliable technicians for your bidet installation requirements. With 60 years experience and over 140 vehicles on the road, you can be assured that you're in good hands with our plumbing and electrical team.
Bidet Installation Enquiry
What are the benefits of bidets?
Improved hygiene with thorough cleaning
Eco-friendly due to decrease in toilet paper use
Saving money as not purchasing as much toilet paper
Luxurious addition to any bathroom
Less likely to block or clog your toilet
Ideal for those with mobility issues
Stand alone bidet
A bidet is the traditional option which is a separate unit in a toilet-shaped bowl, but without the lid and is situated next to the toilet. It provides a water jet from below the rim of the bowl although there is a variation, called a bidette, which has the water outlet over the rim of the bowl.
For this option, you need to purchase both the toilet and bidet units and require enough space to accommodate both. The downfall of a stand alone bidet is that after using the toilet, you need to r elocate to the bidet to clean.
What is a bidet toilet combination?
The popularity of bidet toilets has grown exponentially in Australia and we're saying goodbye to the traditional porcelain bidet fixture taking up space in the bathroom. For the ultimate 'throne' in your home, you will want the bidet toilet combo, which is tidy, compact and extremely functional. Whether it is an upgrade of your existing toilet suite or a bathroom renovation, you will need a professional to install your bidet toilet.
The bidet toilet combination has numerous functions including temperature control, massage, automatic flush, air drying, LED lights, heated water, oscillating nozzles, automatic open and closing of the lid, music playing and so much more.
Bidet toilet seat
A bidet toilet seat is essentially a toilet seat that can be installed onto your regular toilet and is a luxury that you can now have in your own home. Most bidet attachments do not use electricity as the spray mechanism is powered by water pressure. However, if you are looking for a bidet toilet seat that has all the bells and whistles such as temperature control, it will require a power supply. With the bidet seat, a nozzle is added to wash yourself; sometimes the nozzle is fixed and in other models, it can be a moveable nozzle or even two separate nozzles.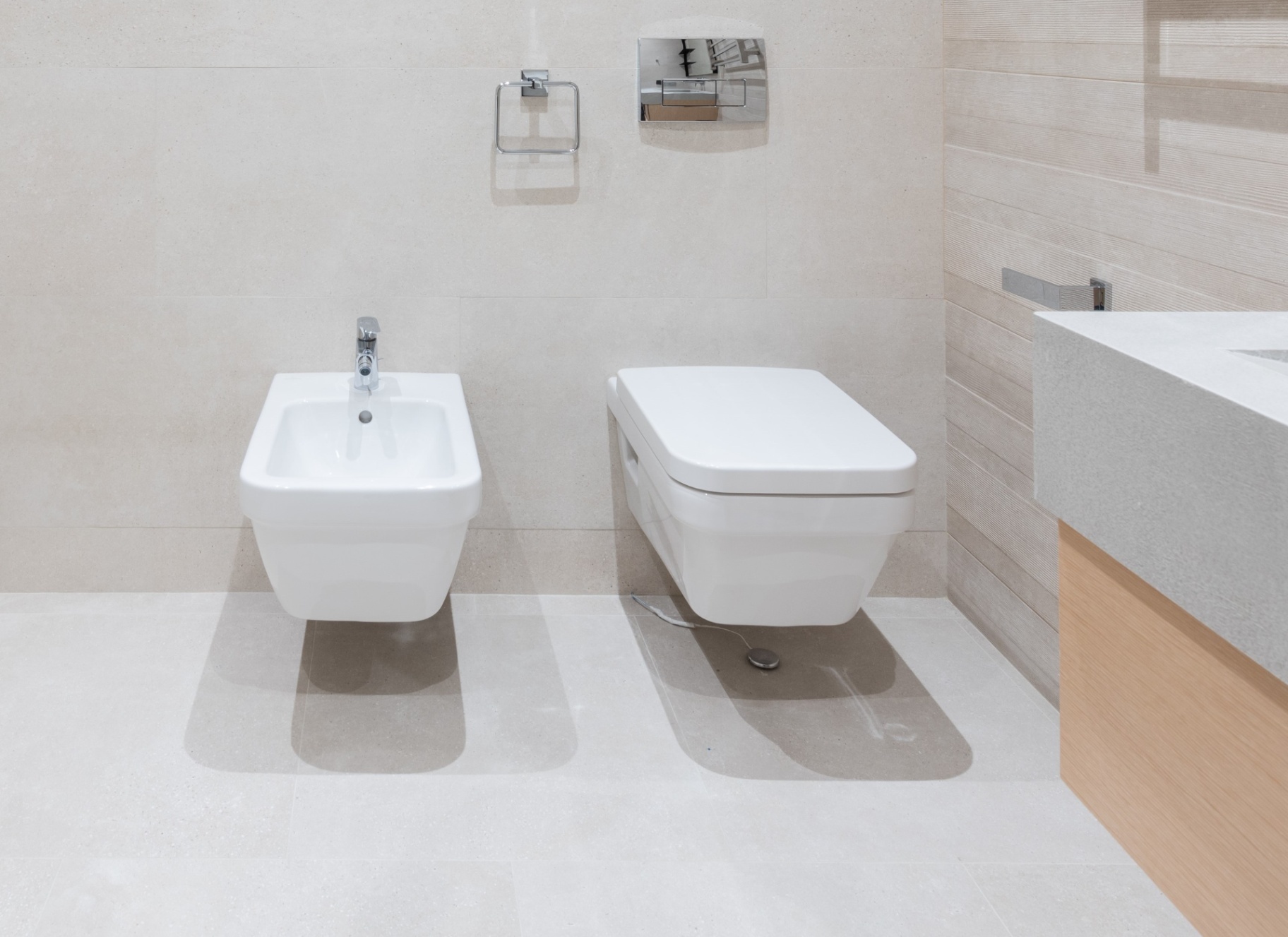 Why do I need a plumber to install my bidet toilet?
Whether you are interested in a stand alone bidet, a bidet toilet seat or a bidet toilet combination, it is essential to get a professional for the installation. The process is similar to installation of new toilets as it requires attaching the bidet to the incoming water supply and waste lines.
The Plumbing and Drainage Act, 2018, to perform ANY plumbing work in Queensland, you must be licensed with the QBCC. So, it is illegal to try DIY plumbing, not to mention the health and safety implications. When Fallon Solutions technicians complete any works, you are provided with a compliance certificate whereas if you try to do any plumbing installations yourself, you will void any warranties on the product.
Backflow and bidets
Backflow is a potentially serious health risk that is mitigated by licensed, qualified plumbers installing your bidet or bidet toilet.
Backflow is when used, contaminated water flows back into the water supply system causing cross contamination. This is why backflow prevention devices are essential when installing toilets and bidets. Backflow takes place when there is a sudden drop in pressure in the water main outside of your property, which can cause the water already in your bidet or toilet draining back into the main water supply. This can potentially taint your water supply with used water!
Backflow Prevention for bidet and bidet toilets
A backflow prevention device is installed to stop the contamination of the water supply by stopping the insalubrious water going back into it.
A hazard rating, in accordance with AS 3500.1, for the toilet or bidet determines the type of backflow device is necessary. As toilet and bidet variations all have a high hazard rating, they are required to have a Reduced Pressure Zone Device (RPZD) installed by a qualified and licensed plumber and tested annually.
Your local bidet toilet plumbing installation specialists
For the very best toilet bidet installations throughout Brisbane, the Sunshine Coast, Logan, Ipswich, and the Gold Coast contact our team on 1300 054 488 .
PLUMBING FAQ