Plumber Brisbane
Need a Brisbane Plumber?
Who do you call when you've got a leaking tap or blocked toilet; or maybe you need to get a new dishwasher installed or a smart toilet with backflow prevention? The problem with many plumbers is they don't turn up on time, do a poor job, don't clean up after themselves and when you need them in the future for a warranty job they no longer exist. With Fallon Solutions' team of Brisbane plumbers you don't have to worry.
Fallon Solutions have been trading for over 60 years and have a team of highly trained and qualified plumbers who turn up on time and clean up after themselves. We also offer warranties on all our work and have reviews from thousands of happy customers to show we provide a great service you can rely on.
Book Brisbane Plumber Today
Services our Brisbane Plumbers can help with
General Plumbers Brisbane
Our plumbers can help with all the general plumbing jobs you have around your Brisbane home or business. This could be anything from a leaking tap to a blocked toilet. Maybe you want to get a water efficiency audit for your home to keep your water bills low or to allow you to pass on water costs to your tenants.
When our plumbers complete a job around your home they will also do a quick check of all your plumbing fixtures to identify any possible issues in the future. A common fault our plumbers find are flexible hoses that are liable to burst in the future, causing flooding throughout your home.
Bathroom Plumber Brisbane
Our Brisbane plumbers can help with all your plumbing needs around your bathroom. This could be as simple as changing the taps in your sink to a new showerhead. Or maybe your shower isn't draining as well as it should be.
Kitchen Plumber Brisbane
The kitchen is another area of your house that you need a good plumber for. This may be to replace the mixer tap in the sink to installing a new dishwasher, insinkerator, under sink water filter or fridge plumbing.
Toilet Plumber Brisbane
Not only is a blocked toilet an inconvenience, but it can be a real health hazard. That's why you need a plumber you can rely on to be there today, on time and do the job properly. Our plumbers can help with blocked toilets, running cisterns or maybe a new smart toilet or bidet with a backflow prevention valve.
Smart Toilet Installation
Bidet Installation
Emergency Plumber Brisbane
Have a plumbing emergency? No worries, Fallon Solutions plumbers are on call in Brisbane 24/7. So whether you have a burst pipe, overflowing toilet, gas leak or no hot water; we can help. Need plumbing help now? Contact our 24 hour emergency plumber at 1300 054 488.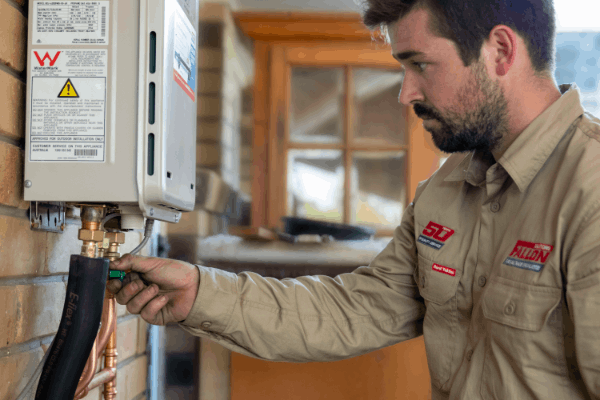 Commercial Plumber Brisbane
Whilst Fallon Solutions are residential plumbing experts, it doesn't mean we can't also help you with your business. Whether you need a leaking tap fixed or maybe a backflow test, give us a call.
Specialist Plumbers Brisbane
Whilst Fallon Solutions' plumbers can help with all your general plumbing needs around the home or business, we have teams of plumbers who specialise in certain areas. This means that not only are they trained in all aspects, but they also drive vehicles that have been fitted out to ensure the required equipment and fittings are available. These specialist areas are:
These are just a few of the huge selection of plumbing services our team can provide. If the service you are looking for is not listed here, contact our team today at 1300 054 488, we are sure to be able to help.
Why use Fallon Plumbers in Brisbane?
Fallon Solutions has been servicing Brisbane since 1962 and we're still going strong; so we must be doing something right.
All our services are backed by our 100% workmanship guarantee.
We have a fleet of service vehicles on the road every day ready to respond to your call.
We provide practical, efficient solutions for any plumbing requirements.
We're your One Call Trade Specialists, we can help with all your trade needs across Brisbane north, west, east and southside.
We have fixed pricing* so you know exactly what the job will cost before we start.
We do a home safety inspection with every job.
We have an on time guarantee.
Our Brisbane plumbers receive regular training across all aspects of our service.
Our plumbers clean up after themselves.
There are plenty more reasons to use our Brisbane plumbers, but these are a few. But don't take our word for it, why not read through some of the Google reviews we've received from thousands of our customers.

Prompt, professional Brisbane plumbers
For the very best in plumber services throughout Brisbane contact the Fallon Solutions plumbing team on 1300 054 488 or complete our quick online Booking Form today.
We can help with your plumbing issues in Brisbane.