Brisbane Plumber
Your trusted local plumber in Brisbane
Here at Fallon Solutions we only employ fully trained master plumbers and gas fitters and we are a registered member of the Master Plumbers Association. This means that you get quality, long lasting work carried out by licenced professionals.
We have a team of professional plumbers in Brisbane and Gold Coast equipped with fully stocked service vehicles which have a range of common items for repairs as well as electric eels and jet rodders for blocked drains and an assortment of tools and ladders enabling most repairs to be carried out immediately. From the moment you telephone our call centre we start work on getting your plumbing problem fixed as soon as possible.
Plumber Enquiry
Brisbane Plumbers - Why use us?
Fallon Solutions have been servicing Brisbane for over 60 years. The secret to our success has been the focus we put on delivering the best possible outcome to our customers. Some of our key values are:
We are flexible and will work around you to get the best possible outcome.
Our staff are friendly, professional and trustworthy.
We aim to get the job coompleted right the first time.
We are a "One Call Trade Specialist", so we can supply all your trade needs. This is great for things like electric hot water systems etc which require different trades to install.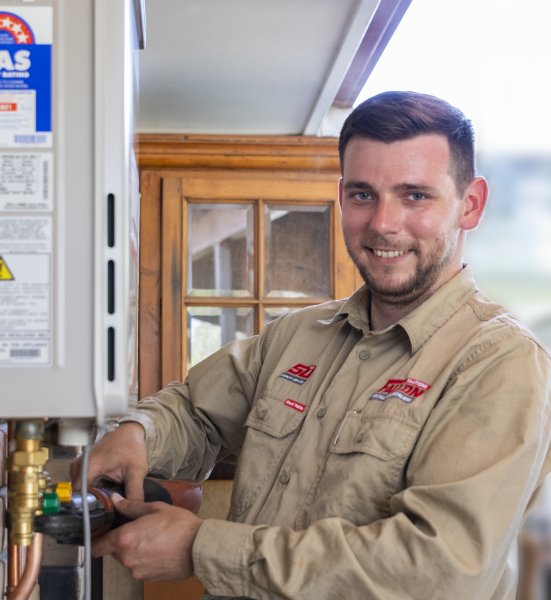 Our Brisbane plumbing services
We offer a huge range of plumbing services throughout the city:
Bathroom Renovations
Dishwasher installations
Garbage disposals
Grey water installations
Installation of new fittings
Install vanity
Install sink
Install tap
Install toilet
Install bidet
Kitchen renovations
Major projects for plumbing Brisbane
Plumbing repairs
Plumber service
Prepurchase property inspections
Pressure reducing valves
Replace taps and replace toilets
Septic systems
Shower mixers
Tap repairs
Tap washers
Toilet installation
Twin flush toilet installations
Water filters
Water hammer
Water leaks
Water saver audits
Water saving devices
Water taps and tap mixers
Complete plumbing, hot water, gas fitting & drainage services
As well as normal plumbing jobs, we can also help with these specialist services:
If you need a Brisbane plumber you can trust, give us a go. Simply call us on 1300 054 488 or fill in an enquiry form and we'll contact you.
PLUMBING FAQ