Plumber Manly 4179
Fast, professional plumber Manly, Brisbane
For over 50 years, the residents of Brisbane's beautiful bayside suburb of Manly have known they can rely on Fallon Solutions for all their plumbing problems. With a team of more than 100 staff and 50 service vehicles, we can have a qualified, experienced plumber to your door to complete the job, day or night, 365 days a year. Contact our team, to book a plumber in Manly.
Plumber Manly Enquiry
Suspect you have a leaking pipe?
Have you noticed the water bill creeping up over the last few months? Maybe you've noticed a damp spot outside the bathroom or under the kitchen sink? These could both be signs that you have a leaking pipe on your property. The water may not be gushing out, but over time even a slow leak can damage the surrounding area and add $$ to your water costs each year.
Fallon Solutions leak detection services can quickly uncover the location of the water leak, where ever it is in, under, or around your home. Our experienced plumbers can then identify the most efficient repair solution to ensure the leak is sealed completely.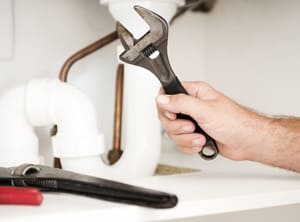 Why use a Fallon Solutions plumber?
Our service team are on hand to answer any of your questions.
We clean up after every job.
Our workmanship is 100% guaranteed.
Fallon Solutions is your 'One Call Trade Specialists', which means we can help you with all your trade needs in Manly.
We have been servicing the Brisbane for over 50 years and have built a reputation you can trust.
Your local plumber in Manly, Brisbane
Fallon Solutions plumbers offer complete plumbing services throughout Manly and surrounding suburbs, from hot water to blocked drains give our team a call. Contact your local plumber in Manly on 1300 762 260 or complete our book a plumber form.