Emergency Plumber
Need urgent 24 hour plumbing help? Brisbane & Gold Coast Only.
Plumbing Emergencies
For plumbing emergencies call our team on
3029 6300
24 hours a day.
Fallon Solutions emergency plumbing is fast, reliable, effective and efficient
24-hour 7-day plumber Brisbane & Gold Coast
If you are experiencing a plumbing EMERGENCY and you need an emergency plumber call Fallon Solutions 24-hour plumbing hotline 1300 054 488 or 3029 6300 . We have four after hours tradesman on standby to attend to your property and carry out emergency plumbing repairs. For non-emergency plumbing services complete the from below.
Plumbing Enquiry
Urgent plumbing services Brisbane & Gold Coast
Fallon Solutions emergency plumber service starts from the moment you call for our 24-hour plumbing support. Our emergency plumbers will talk through the problem on the phone to help identify the best course of action to take once we arrive at your property.
Our teams can carry out emergency repairs. Every master plumber in the Fallon Solutions team drives a fully stocked service vehicle with the full range of parts needed for emergency plumbing repairs as well as an electric eel, range of tools, ladders and repair equipment.
We have been providing emergency plumbing for over 60 years and can be trusted to come to your property and provide solutions to your emergency plumbing.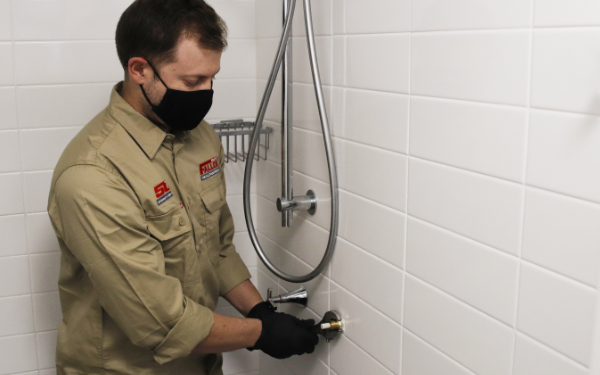 Emergency hot water, blocked drains, and more
Emergency hot water system repairs, drain repairs, plus many more plumbing services we can carry out at your home or business with our 24 hour plumbing support services:
Hot and cold water taps will not turn off
Burst water pipes
Raw sewerage overflow
Roof leaking
and more
Fallon Solutions after hours plumbers
Call our emergency plumber now on 1300 054 488 for all your 24-hour plumber needs.
PLUMBING FAQ