Fridge Plumbing
Professional fridge plumbing installation
So, you've purchased a new fridge with a water dispenser and maybe even an ice maker too. If this has been an upgrade for you, there's one extremely important thing that you need to know: you need access to a water line and to have your fridge plumbed to it.
Whether it is repairing or updating existing plumbing or installing a new water connection, it is worth getting a professional plumber to carry out the plumbing installation for your fridge.
With the help of our trained and reliable plumbers, your new fridge plumbing will be up and running in no time!
Fridge Plumbing Enquiry
Why use Fallon Solutions for my fridge plumbing installation?
Avoid the following by getting a plumber to install your fridge waterworks:
Voiding the warranty if you try to install it yourself

Leaks, flooding and further damage

If you have not had a water dispenser or ice making fridge before, it is likely that you will not have a water connection installed for your fridge and so you will not be able to use these features that you have invested in.
Fallons Solutions can take care of your fridge plumbing and make a potentially difficult job easy for you. We can also test the newly installed plumbing for your fridge to make sure it is plumbed correctly and safely.
We have been around for over 60 years, so must be doing something right!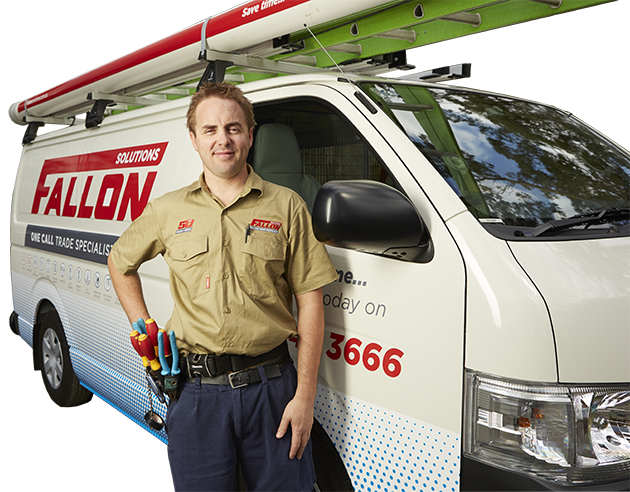 Why do I need a plumber to install my fridge?
To plumb the water and ice dispenser of your fridge, you will need installation of:
A stop top

Water filter

Pressure limiting valve
These need to be installed by a professional plumber. You may be handy at DIY, but there are many ways this can go horribly wrong and it will certainly cost you more than hiring a professional in the first instance.
Fallon Solutions fridge plumbing installation
If you are looking for a professional fridge plumbing installer, contact our plumbing team
PLUMBING FAQ