Insinkerator installation
InSinkErator food waste disposer installation service
Fallon Solutions plumbing team can have your InSinkErator installed and working in no time at all. Once you have experienced the benefits of this evolutionary in-sink garbage disposal appliance you will wonder how you managed without it. We know how important it is to have a functional kitchen, and we will get your InSinkErator or garbage disposal up and running as soon as possible.
If you are fed up with the smell of rotting food in your kitchen? It's time to end the chore of disposing of your food waste in the rubbish bin and install an InSinkErator. Sometimes referred to as a garbage or food waste disposal unit, this environmentally friendly appliance is making its way into many Australian kitchens.
Contact Fallon Solutions plumbers to install your InSinkErator in Brisbane, the Gold Coast, Sunshine Coast, Logan and Ipswich today.
Book InSinkErator Installation Today
InSinkErator garbage disposal solutions
Did you know that approx 7.3 million tonnes of food waste ends up in landfills each year, emitting harmful greenhouse gases? When you use an InSinkErator you are doing your bit for the environment by keeping food waste from going into landfill as well as keeping your kitchen cleaner and more hygienic.
You may think that installing an InSinkErator is an easy DIY project, however, in Australia, all plumbing and electrical work must be installed by a licenced plumber or electrician. This will also a void any issues with leaking water, which could cause substantial damage and inconvenience. You will also have peace of mind that your warranty will not be invalid should any plumbing installation or electrical problems occur.
How does an InSinkErator food waste disposal system work?
Once your InSinkErator has been installed by a licensed plumber, all you need to do is put your food scraps down the fitted outlet in your sink, turn on the tap to have water flowing, and then turn on your InSinkErator.
The concealed impellers mounted on a spinning plate use centrifugal power to force the food waste particles against a grind ring. This action basically liquefies the waste and flushes it out through the plumbing system for wastewater treatment.
Use the InSinkErator in 5 easy steps:
Run a medium stream of cold water.
Turn on the InSinkErator at the connected power switch.
Gradually feed the food scraps into the waste disposal.
Leave the cold water running for another 10 seconds after feeding in the food scraps.
Turn off the tap and the InSinkErator.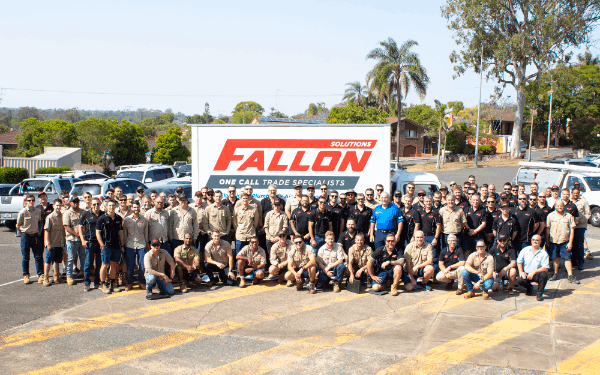 Great reasons to use our plumbing team
The Fallon Solutions team set ourselves apart by setting high service standards.
we always turn up when we say we will because we value your time
we only employ well trained efficient staff so that your job gets done right
we always contact our customers to confirm our arrival time, so you know we're on the way
we always clean up afterwards
we 100% guarantee all of our workmanship
Your local InSinkErator installation experts
So for the very best in plumbing services contact the Fallon Solutions plumbing team at 1300 054 488.
PLUMBING FAQ