Leaking Taps
Don't put up with a leaking tap
A single leaking tap can waste up to 24 000 litres of water per year!
Now that is a lot of water getting wasted. It is worth contacting Fallon Solutions plumbers to take advantage of our "fix a tap" services! Fallon Solutions can fix all types of leaking taps, from modern day flick mixers to traditional compression style taps.
Leaking Tap Enquiry
Let our team fix your dripping tap, fast.
We have a team of master plumbers who can fix your leaking taps quickly. Our plumbers can carry out anything from replacement washers to installing new eco friendly water saving taps if your leaking tap cannot be fixed. Your Fallon Solutions plumber will arrive at your property in a work vehicle, fully stocked with spare parts, washers and repair equipment to enable tap repairs to be carried out immediately and without delay.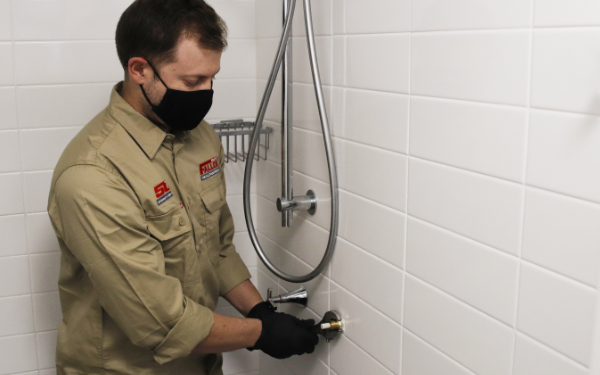 Tap leaking? We can help
The amount of water that is wasted from a leaking tap can easily be saved. Our team can fix leaking:
shower taps
bath taps
vanity taps
kitchen taps - including dishwasher taps
many styles of mixer tap
garden taps
laundry taps - including those attached to the washing machine
toilet taps
Is your mixer tap leaking?
Mixer taps are a great modern convenience, allowing quick one handed use of the tap. Some mixer tap models are designed for fast replacement of washers or other parts, however some manufacturers have produced taps which are not repair friendly. If this is found to be the case with your leaking mixer tap our team carries quality, water saving replacement taps to minimise impact on your home life.
Tap washer replacement and much more
Ignoring a dripping tap is never a good idea. The small amount of water which initially comes out of the tap drip by drip is often a sign of a deteriorating washer. If the washer falls apart all together the drip can quickly turn into a running tap, which, if you are not at home to catch it can lead to a flooded room quite rapidly. Tap washer replacement is usually a quick task for a licenced plumber, don't put it off.

Fallon Solutions Leaking Tap Repair
Call a Fallon Solutions master plumber to get so the source of the problem and provide a solution to stop that leaking tap on 1300 054 488 or complete our Booking Request today.
PLUMBING FAQ