Under sink water filter
Your local water filter installation specialists
Need an under-sink water filter installed? Fallon Solutions are your one-call trade specialists, we can help you decide which system will best suit your home or office needs, and provide the full water filter installation.
Once you have had a water filter installed you will have peace of mind that the water you are drinking has been purified to remove any contaminants and additives. An under-sink water filter is an 'out of sight' water filtration system that will provide you easy access to cleaner, healthier water.
Contact the Fallon Solutions plumbing team to book your water filter installation service today.
Book Water Filter Installation
Benefits of under-bench water filters
Getting enough water every day is important for your health, along with the many health benefits, drinking water will also prevent your body from becoming dehydrated.
Unfortunately, not everyone enjoys a simple glass of tap water. This might be due to the taste of the water that is supplied from the region's water treatment plant which may have an unpleasant taste or odour. This can be enough to put you off drinking or cooking with it.
The best way to make your tap water taste better is to have an under-sink filter or purifier installed, these simple devices are always a great addition to every kitchen. It will undoubtedly make a huge difference to the taste and quality of your drinking water and it will mean you have access to pure, healthy and great tasting water on demand.
Improves water taste and quality
Space saving - out of sight
Aesthetically pleasing
Easy installation and maintenance
Cost efficient
How does an under-the-sink water filter work?
This style of filter is installed under your kitchen sink, making it a space-saving unit. A diverter valve then diverts cold water from the main water pipe to the filter before it reaches the sink tap.
Water filters use a variety of filter materials like to remove nasties such as sand, rust, sediment and algae.
As the water passes through the filter system, this is where all the unhealthy contaminants, bacteria and impurities are removed, it then goes out through a separate faucet for filtered water that is placed on the sink or benchtop.
Great reasons to use Fallon Solutions plumbers
We are proud of our reputation for quality workmanship, timely service, and competitive rates. The hallmark of a successful service business is customer satisfaction and it is true to say the majority of our work is for previous customers.
The Fallon Solutions team feel we set ourselves apart by setting high service standards.
we always turn up when we say we will because we value your time
we only employ well trained efficient staff so that your job gets done right
we always contact our customers to confirm our arrival time, so you know we're on the way
we always offer to clean up afterwards
we 100% guarantee all of our work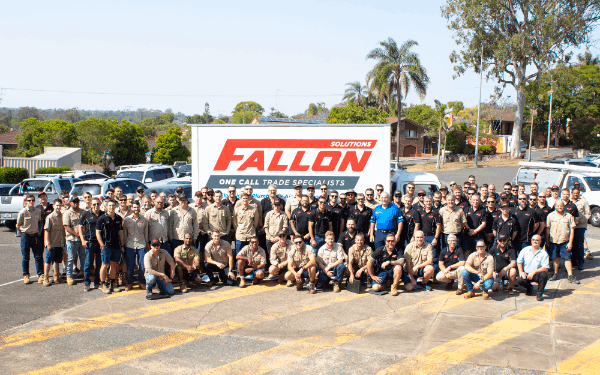 Looking for a water filter for your kitchen sink?
For complete, professional water filter installation throughout Brisbane, the Gold Coast, Sunshine Coast, Logan & Ipswich contact Fallon Solutions at 1300 054 488 or complete our quick online plumber booking request form today.
PLUMBING FAQ