Daikin - Alira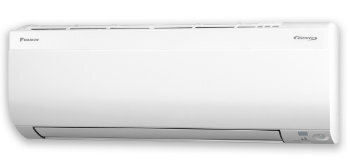 Daikin - Alira
SKU: FTXM20U
Daikin Air Conditioner - Alira 2.0kW Reverse Cycle Single Split System
Daikin Alira 2.0kW Reverse Cycle Single Split System FTXM20U
The new Daikin Alira split system air conditioners are a perfect blend of progressive design aesthetic and superior energy performance, all presented in a compact form factor. This efficient air conditioner is approved by the National Asthma Council of Australia making it the ideal choice for clean, fresh air in your home or business.
Fallon Solutions is a Daikin Authorised Dealer which means our customers receive expert advice and specialist Daikin service.
Daikin Alira reverse cycle air conditioner model FTXM20U features:
Perfect fusion - new R32 is a perfect blend of progressive design asthetic and superior energy performance.
2-Area Intelligent Eye - the infrared human presence sensor helps to prevent draughts and can switch the air con to energy saving mode when the room has been unoccupied for 20 mins.
Coanda airflow - louvres designed to stream air along the ceiling for rapid cooling and a more even temperature distribution.
Precision control - the room temperature can be adjusted in increments of 0.5C for optimal comfort.
Whisper quite - quite mode so quite you won't even notice it's on.
Air purification - titanium apatite deodorising air purification filter traps microscopic particles, decomposes odors, and deactivates bacteria.
For more information on Daikin Air Conditioners.
Specifications:
For detailed specifications for the Daikin Alira Reverse Cycle FTXM20U download the Daikin brochure.
Daikin Split System Air Conditioner (3488 KB)
Important points about your split system air conditioner installation
The quoted price includes:

Installation of a wall hung unit, back to back on an external wall with internal head unit within 3 metres of the ground mounted external compressor unit.
Installation of gas/liquid lines (3 metres) from the internal head unit to the external compressor unit including a maximum of 2 metres pipe capping.
Installation of the external unit in a location that meets the manufacturer's requirements. Need a suitable hard surface on the ground, otherwise additional charges may apply.
All certificates of compliance as required.
Wiring of a new individual circuit back to the meter box (maximum 15 metres). Also includes an external isolation switch and a circuit breaker (if required for the switchboard).
Removal and disposal of all wall hung split air-conditioning systems packaging.

Conditions of installation:

Multi-head and non standard back to back installations will require a site check.
Installation vehicle, equipment and installation team must have clear and unhindered access to the site and internal/external location where indoor/outdoor units are to be mounted.
Any travel, accommodation, additional fees and charges associated with installations in excess of 40 kms from the Fallon Solutions Offices, will be charged to the customer as an additional cost.
House wiring/power supply/switchboard must be in accordance with Australian standards and Manufacturer specifications. Additional charges may apply for non-compliant electrical wiring/switchboards and cable runs in excess of 15 metres.
Any additional charges will be discussed and agreed upon prior to installation.