Daikin - Zena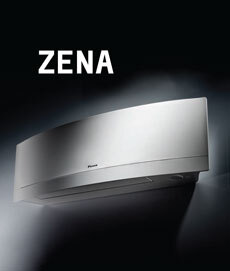 Daikin - Zena
SKU: FTXJ25PVMAW
Daikin Air Conditioner - 2.5kW Zena Reverse Cycle Split System - White
Daikin Zena 2.5kW Reverse Cycle Single Split System FTXJ25PVMAW - in White
The contemporary, European engineered Daikin Zena is designed to impress. Stylish curved front panel gently lifts upwards to allow clean air to be delivered quietly and efficiently.
Fallon Solutions is a Daikin Authorised Dealer ensuring you receive expert advice and specialist Daikin service.
Daikin Zena split system air conditioner model FTXJ25PVMAW features:
Standby power function - standby energy saving mode to reduce energy consumption.
Power-Airflow dual flaps - delivers cool air to corners of room and warm air to floor.
Wide angle louvres - wide air flow coverage
Vertical and horizontal auto-swing
3-D airflow
Comfortable mode - prevents airflow from blowing directly onto your body.
Quiet operation - Indoor and outdoor unit
2 area intelligent eye - senses lack of movement in room. After 20 mins air conditioner switches to energy saving mode. Intelligent eye also directs the air flow away from people in the room to avoid draughts.
Automatic operation
Auto fan speed
Hot start - Airflow doesn't start until air is warm to prevent draughts.
Titanium apatite photocatalytic air-purifying filter
Wipe clean
Econo mode
Powerful operation - gives air con a boost for 20 mins
LCD wireless remote control
24 hour on/off timer and weekly timer
Night set mode
Auto restart - after power failure
Self diagnosis - with digital display
Anti corrosion treatment - of outdoor heat exchanger fin
Demand Enabled Response - DRED - allows the electricity provider to independently control the capacity of the system at pre-programmed levels to manage peak demand periods.
Wireless LAN connection - allows you to control your air conditioner from anywhere via a handy app.
Multi colour monitor lamp
For more information on Daikin Air Conditioners.
Specifications:
For detailed specifications for the Daikin Zena Reverse Cycle FTXJ25PVMAW download the Daikin brochure.
Daikin Split System Air Conditioner (3488 KB)
Important points about your split system air conditioner installation
The quoted price includes:

Installation of a wall hung unit, back to back on an external wall with internal head unit within 3 metres of the ground mounted external compressor unit.
Installation of gas/liquid lines (3 metres) from the internal head unit to the external compressor unit including a maximum of 2 metres pipe capping.
Installation of the external unit in a location that meets the manufacturer's requirements. Need a suitable hard surface on the ground, otherwise additional charges may apply.
All certificates of compliance as required.
Wiring of a new individual circuit back to the meter box (maximum 15 metres). Also includes an external isolation switch and a circuit breaker (if required for the switchboard).
Removal and disposal of all wall hung split air-conditioning systems packaging.

Conditions of installation:

Multi-head and non standard back to back installations will require a site check.
Installation vehicle, equipment and installation team must have clear and unhindered access to the site and internal/external location where indoor/outdoor units are to be mounted.
Any travel, accommodation, additional fees and charges associated with installations in excess of 40 kms from the Fallon Solutions Offices, will be charged to the customer as an additional cost.
House wiring/power supply/switchboard must be in accordance with Australian standards and Manufacturer specifications. Additional charges may apply for non-compliant electrical wiring/switchboards and cable runs in excess of 15 metres.
Any additional charges will be discussed and agreed upon prior to installation.