Rheem Electric 400L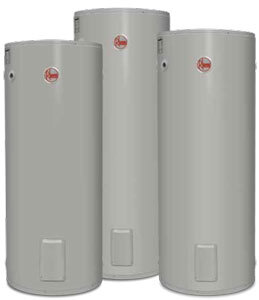 Rheem Electric 400L
SKU: 491400
Rheem Electric Hot Water System 400L | Supply and Install
Rheem Electric Water Heater 400L
Model - 491400
This model is ideal for homes with 4 to 6 (off peak) or 5 to 9 (continuous). With a similar footprint to many older model systems upgrading your electric hot water system is easy.
Features and benefits:
Dual handed fittings for flexible installation options
Commercial grade enamel - providing a tough finish
Thicker sacrificial anode for additional cylinder protection
Suitable for connection to economy or off-peak tariffs
Manufactured in Australia
12 year cylinder warranty*
3 years cylinder labour warranty*
1 year parts and labour warranty*
More information on Rheem hot water systems.
*conditions apply
Important Points - Fallon electric hot water system installation
Price shown is for external installation during standard working hours (Mon - Fri, 7 am to 4 pm). Work outside these times is subject to overtime loadings.
Quoted price is for the straight change over of the unit, like for like.
Installation price includes:

Delivery
Installation by an experienced, licenced tradesperson
Clean up
Removal of rubbish and old system

Additional charges may apply if existing fittings, unit type, or hot water system location are changed.
Relocations will require additional Council Application and Inspection Fees.
For safety reasons, we recommend the installation of a tempering valve on all installations where alterations to the pipework are required.
Specifications
outdoor installation
height - 1840 mm
diameter - 690 mm
depth - 735 mm