Rinnai Electric - 125L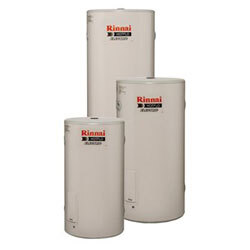 Rinnai Electric - 125L
SKU: RIN125
Rinnai Electric Hot Water System
Rinnai HOTFLO Electric Storage Hot Water System 125L
The most effective and energy efficient hot water systems to meet your households hot water demands.
Features
Vitreous Enamel lined steel tank adds durability for a longer life
Inbuilt anode protection extends the life of the tank
Dual handed, allows increased flexibility during installtion
Pressure temperature relief valve included
Suitable for internal and external use
Thermostatically controlled with safety temperature shut off for added peace of mind
RIN125 Specifications -
Electrical Supply - AC 240V 50 Hz
Tank Diameter - 532mm
Heating Elements Available - 2.4/3.6 kW
Approx. Weight Empty - 48kg
Overall Height - 1062mm
Height - Hot water outlet - 857mm
Height - Cold water inlet - 206mm
Electrical Connection Height - 116mm
Relief Valve Setting - 1000 kPa
Expansion Control Valve Setting - 850 kPa
Max. Supply Pressure - with Expansion Control Valve - 680 kPa
Max. Supply Pressure - without Expansion Control Valve - 800 kPa
Water Connections - RP 3/4 | 20mm
Rated Capacity - 125L
Ingress Protection Rating (AS1939) - IPX4
More information on Rinnai hot water systems.
Important Points - Fallon electric hot water system installation
Price shown is for external installation during standard working hours (Mon - Fri, 7 am to 4 pm). Work outside these times is subject to overtime loadings.
Quoted price is for the straight change over of the unit, like for like.
Installation price includes:

Delivery
Installation by an experienced, licenced tradesperson
Clean up
Removal of rubbish and old system

Additional charges may apply if existing fittings, unit type, or hot water system location are changed.
Relocations will require additional Council Application and Inspection Fees.
For safety reasons, we recommend the installation of a tempering valve on all installations where alterations to the pipework are required.