Why use Fallon Solutions?
Great reasons why you can count on Fallon Solutions
Fallon Solutions employs 195 permanent staff. We also use a number of trusted specialist fully accredited contractors when necessary. We have a fleet of 146 service vehicles servicing the greater Brisbane area and the Gold Coast.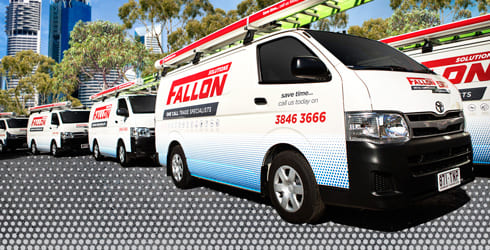 24/7 Trade Services
Fallon Solutions office hours are from 7 am to 5.30 pm Monday to Friday, and 7 am to 3 pm on Saturdays.
For after hours requirements, we have tradespersons rostered 24 hours per day, 365 days per year. The after hours staff can be contacted via 1300 054 488
Licenced and regularly trained trade team
We employ fully licenced, experienced, and trained tradespeople electricians, plumbers, gas fitters, data cabling, appliance repair technicians, antenna installers and air conditioner technicians.
We are fully committed to training our staff and since 1962 have trained over 100 apprentices. Currently, we employ around 10 apprentices. In 2005 one of our apprentices David O'Connor won the highly acclaimed ECA/Clipsal Apprentice of the Year and in 2003 Fallon Solutions was nominated Host Employer of the Year by Electro Group in appreciation of our contribution in providing quality 'on the job' training for apprentices.
Staff undertake regular training according to their areas of speciality. We ensure that all our staff are fully trained in their trade and in all aspects of safety and provide regular opportunities to cross skill into other areas.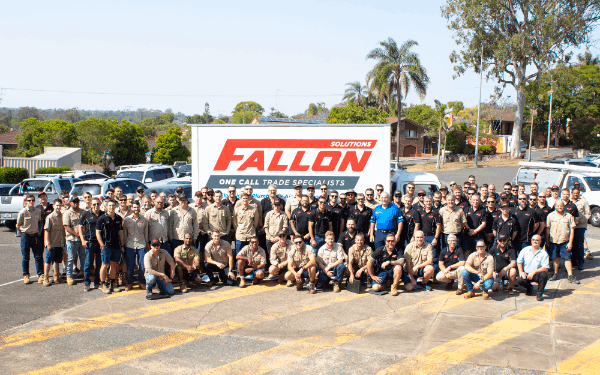 Fallon Solutions Reviews
But don't take our word for it see what some of our customers have said about our trade services.
Full Trade Services Solutons
Fallon Solutions offers trade services for everything from a small apartment to a large industrial enterprise. We cover: