Solar Berrinba (4117)
Your local solar system installers in Berrinba
Fallon Solutions solar specialists take pride in being one of the most trusted solar companies in Berrinba, with extensive experience and skills when it comes to all kinds of solar system services across the area. We deal with a huge range of brands, system sizes, types and options, ensuring we have a system to fit your needs and budget.
From solar panel selection to installation of a correctly sized solar PV system and advice on optimising the electricity output, our team is committed to providing you with reliable advice and quality services. We are fully licensed and insured and all our solar electricians are CEC accredited, allowing our customers peace of mind that they are dealing with the experts each and every time. Discuss your solar power requirements with our team today and we will be delighted to help.
Book Solar Power Berrinba Today
Solar PV System Installation Berrinba
We understand that the amount of solar systems options available is getting larger and larger, and we know that choosing the solar system that best suits your needs can sometimes be a little confusing. Luckily, our team has a wealth of experience and expertise with custom designing and installing solar PV systems.
We provide installation of solar panels, inverters and battery storage options from Tier 1 manufacturers. Our team can custom design your solar power system, and complete the installation and grid connection. If you are considering a more eco-friendly option when it comes to electricity, solar is a great option in so many ways and we can assist in choosing the best option for your circumstances.
Solar Repairs Berrinba
Is your solar system underperforming? Are the panels damaged from a hail storm or strong winds? Or can you see an error code in your inverter? Our experienced solar technicians can help. Fallon Solutions offers comprehensive solar power repair solutions including panel and inverter repairs. Book our solar repair service today.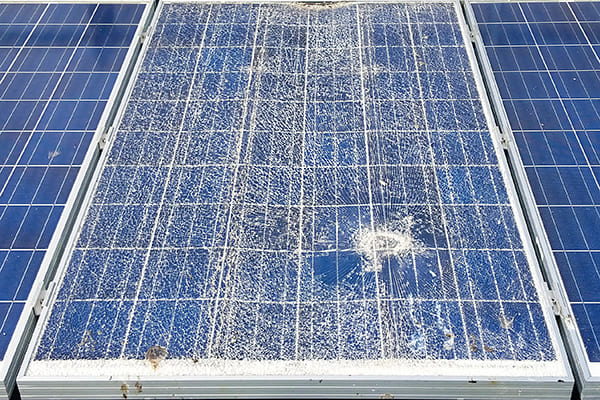 Solar Inspections Berrinba
Has your solar power output dropped? You could benefit from a comprehensive solar inspection? Ensure your solar PV system is working efficiently with our $99 solar inspection services. Our experienced team of accredited installers and solar electricians can carry out a complete review of your solar PV system to ensure it's operating safely and providing your home with the most solar-generated power possible.
Experienced Berrinba Solar Installers
When it comes to solar, you want to know that you are dealing with specialist electricians that know what they are doing. At Fallon Solutions, we have years of experience and training in installing, repairing and inspecting solar all across Berrinba.
Our solar experts complete regular training and are accredited with the CEC to ensure they remain up-to-date with all the latest industry standards and improvements, allowing them to provide our customers with the best service around. Whether it is solar installation, repairs, cleaning or inspection, we can help you every step of the way.
Your Trusted Local Berrinba Solar Technicians
If you have any questions regarding the solar services that we provide to Berrinba, or you would like to speak to one of our friendly team members, give us a call on 1300 054 488 or complete our online Solar Systems Booking. We specialise in a huge range of options for your Berrinba home and business, so get in contact today.