Solar Inverter Repairs
Professional solar inverter repairs
Fallon Solutions offer the best in solar inverter repairs in Brisbane and the Gold Coast, offering great customer service and the highest level of industry professionalism, no matter the job size or type. Whether your inverter is showing a consistent fault, isn't working as it should or you think it may be time for a full replacement, our qualified team can help every step of the way. Speak to our solar specialists today.
Book Solar Inverter Repairs

Solar inverter services
We offer a huge range of solar inverter services for all major brands and styles of solar systems, no matter the size or location. Our vans are fully equipped with a variety of commonly-needed tools and equipment, meaning we can attend your home or office and complete the necessary services both quickly and efficiently. We know how frustrating it can be waiting hours for a tradesperson to arrive, so we ensure we arrive as promptly as possible to each and every job as we know you have places to be.
Solar power inverter repairs
When your solar system is working it is easy to take it for granted, however, when something isn't working as it should it can be a large inconvenience. Whether your inverter just needs a reboot or there is something more going on, our repair technicians are able to locate any issue and determine practical solutions no matter the problem. We ensure that you are aware and understand all options, and can assist with figuring out the best arrangements for you and your solar needs, both in the short and long term.
Solar inverter replacement Brisbane
If a repair just isn't enough, our team of qualified tradesmen can also complete full solar inverter replacements for most of the major brands and styles of system. We understand that being without your solar system can be incredibly disruptive, which is why we ensure we complete each and every job as quickly and efficiently as possible. We will discuss with you all the available options for your circumstances and ensure you are aware of all scenarios, offering practical and reasonable solutions for you and your needs.
Why choose Fallon Solutions for your inverter repairs?
With so many solar companies now available in South-East Queensland, it can be a tough job to figure out the best option for your needs. The friendly and qualified team at Fallon Solutions are one of the most trusted companies around, and can offer :
Experience : We have over 60 years experience servicing Brisbane and its surrounds
24/7 Service : We have tradespeople available 24 hours a day, 7 days a week
Safety : Safety is our top priority, and we ensure all our staff are fully qualified and up-to-date with all current safety regulations
Qualified : Each one of our tradespeople is highly qualified and complete regular training to ensure they can provide the best service available
Variety : We offer fully licensed and trained electricians, plumbers, gas fitters, data cablers, appliance technicians, antenna installers and air conditioning mechanics
High Quality : We take great pride in our work, and complete each and every job at the highest industry standard every time
Punctual : We try and attend all jobs on time, being prompt and professional at all times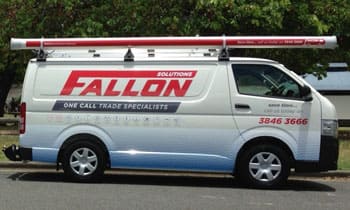 Your solar inverter industry professionals
If you still have some questions regarding your solar inverter, or are thinking it may be time for some repairs or a replacement, give our friendly staff a call on 1300 054 488 or complete an online job booking form now. We offer a huge range of solar solutions and services, so get in contact now.