Fallon Solutions Training Facility
Unlocking Excellence: The Fallon Solutions Advantage
At Fallon Solutions, we're not just your run-of-the-mill trade services company. We're pioneers in the industry, constantly striving to raise the bar for service excellence and technical expertise. Our commitment to delivering superior solutions is evident not only in the exceptional work we do but also in the way we invest in our team's continuous growth and development.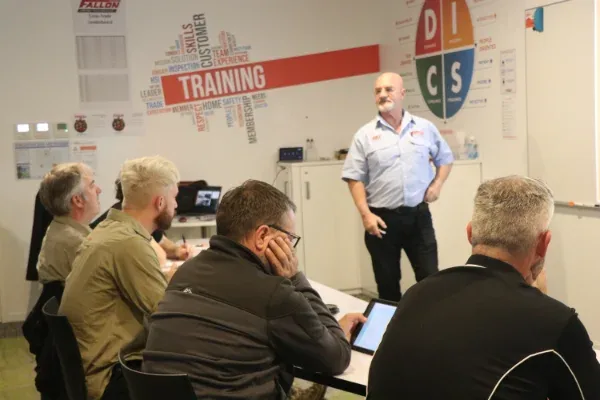 Elevating Expertise through On-the-Job Training
In an industry where staying ahead of the curve is paramount, our hands-on training facility shines as a beacon of continuous improvement. We understand that the world of trades is constantly evolving, with new technologies and techniques emerging every day. That's why we've gone above and beyond, providing our technicians with a platform to enhance their skills, embrace innovation, and master the latest equipment. This means that when you choose Fallon Solutions, you're choosing a team that can tackle any challenge with confidence, precision, and efficiency.
Our in-house training is led by a dedicated full-time training team and includes a 90-day onboarding program for new starters. This training consists of 80 hours of training sessions per technician each year. We also invite inspirational quarterly guest speakers who help the team develop skills in sales, customer service, technical and personal development.
We train new starters on all aspects of how we do our business and working to our customers' needs and expectations including ride alongs with a fellow technician.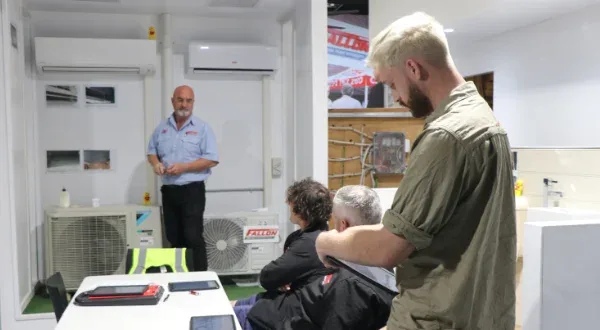 Versatility Beyond Boundaries
Being a multi-trade service provider, our in-house training facility serves a dual purpose. It empowers our technicians not only to excel in their specialised trades but also to become proficient in a range of other trades. This cross-disciplinary exposure goes beyond the ordinary, transforming our technicians into well-rounded professionals capable of addressing a multitude of challenges.
When a Fallon Solutions tradesperson enters your home, they bring with them a holistic perspective. Our technicians are not confined by the limitations of a single trade - they can assess various areas of your home during our complimentary home safety inspection (HSI) with a discerning eye, and thanks to the knowledge they've gained through our comprehensive training programs.
Nurturing Customer-Centric Approach:
Technical know how is only half the equation. Exceptional customer service is the key to building lasting relationships. Our training facility offers comprehensive customer service training, enabling our technicians to not only deliver outstanding technical solutions but also provide a customer experience that's second to none.
When you choose Fallon Solutions, you're choosing professionals who truly understand your needs and prioritise your satisfaction.