Data Cabling & TV reception
Your local data cabling & TV antenna specialists
Does your TV reception or internet keep dropping out? There is nothing more frustrating than watching your favourite show when the connection keeps dropping out. Fallon Solutions team of data cabling and TV reception specialists can help.
We employ licensed and fully trained TV antenna installers and data cablers who can provide all the services you need to maintain a reliable internet, phone and television connetion to your home or business. From re-aligning your TV antenna to updating your NBN cabling, we offer practical, efficient solutions for small houses right through to large apartment buildings.
TV antenna & data cable installation
Our team of TV Antenna Installers are skilled at a variety of television-related issues including home theatre set up, setting up smart home surround sound systems, smart TVs, and free-to-air channel connections.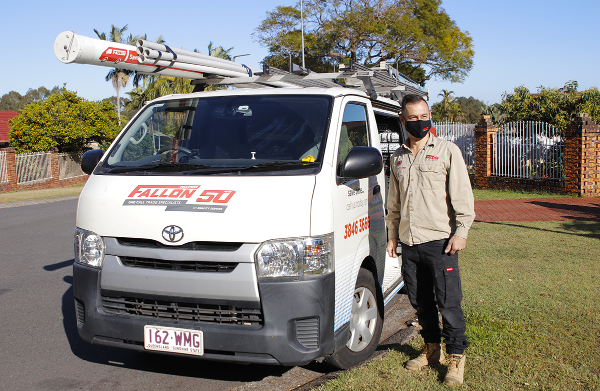 TV & data cabling services
We can help you with all TV reception and connection plus a wide range of data cabling and phone services:
Digital antenna upgrades & installations
Commercial data cabling, antenna, and audio-visual requirements
New and additional telephone points
Tuning requirements
Home theatre installation and sound system setup
Masthead and distribution
Amplifier and signal boosters
Fault finding
Multi-room audio distribution
The benefits of a mesh WiFi system
What is a Mesh Wifi system? What is the best home network to ensure you have coverage throughout your home? A Mesh WIFI System can give you a seamless connection no matter where you are.
Mick speaks to Fallon Solutions data cabler Chris about the benefits of a direct data connection for PCs and printers and a mesh wifi system for mobile devices.
We provide a range of TV and data cabling solutions. Some of our existing clients include:
Private homes
Real estate agents
Body corporates
Hotels, Motels, Clubs
Multi-storey apartment complexes
Schools, childcare centres and education centres
High rise commercial buildings
Government departments