Data points and data outlets
Looking for data cable installation?
If you need voice and data cabling in your home or business, then get on the phone to us here at Fallon Solutions. We will dispatch one of our fully qualified, highly knowledgeable and skilled technicians to come out right away and have you surfing the information superhighway in no time. Our data cable installations will be carried out by our experienced technicians who receive regular training to keep up to date with the latest technology.
Data Cabling Enquiry
Benefits of data cabling
It is not just high tech businesses that need a range of data cabling and outlets. More and more everyday people are having their homes wired up to take advantage of all the different services and appliances.
Having data cabling around your home gives you more options, it means that you can plug in wherever you want, whenever you want. Many real estate agents have found that potential house buyers are asking whether a house is connected, so adding data points and outlets will also increase the saleability of your home.
A Data Distribution Box Fallon Solutions upgraded!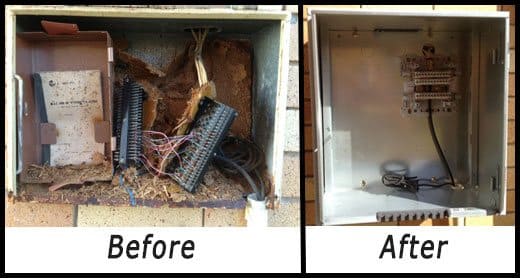 Data cable installations
Our team at Fallon Solutions know everything there is to know about voice and data cabling. They will be able to provide you with the infrastructure that will support multiple voice, data, video and multimedia systems.
Nowadays modern IT systems can transfer data at 10 Gigabits per second, but only when the points and outlets are up to spec. The system will only be as fast and efficient as the slowest piece of hardware, so make sure that everything is up to standard.
What sort of data outlets can you provide?
We can provide you with a wide variety of data outlets, including:
Single outlets
Multiple outlets
Rack mounted patch panels
In-home patch panels
Internal distribution frames
Mains distribution frames
Voice cabling
Your local data cabling specialists
Contact our team on 1300 054 488 or complete our service request form today.